The 9/11 Gift Shop Sells Tacky Tchotchkes Because We'll Buy Them
By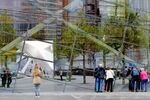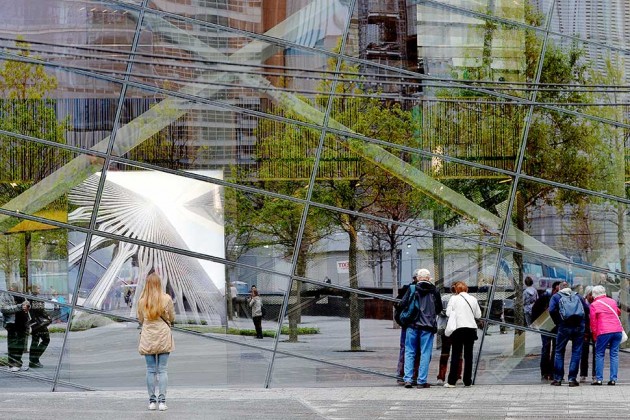 This weekend, you'll be able to visit the 9/11 memorial plaza without a pass, tour the museum, and buy a trinket to commemorate the experience. That last bit has provoked outrage from those who see the museum's gift shop as crass commercialization of a national tragedy.
This is only the latest round of controversy to beset the 9/11 Memorial and Museum, whose organizers and designers have had to navigate an ocean of political and personal interests. By most measures, the museum, designed by Davis Brody Bond and Snøhetta, has met the difficult challenge of telling the emotionally charged story of 9/11 at Ground Zero. The gift shop, however, has detracted from the achievement, with tabloids and blogs lambasting the "darkness" hoodies, toy firetrucks, "survivor tree" earrings, and 9/11 cheese plate for sale in the gift shop.
That choice of merchandise aside, gift shops at memorial sites exist for a reason: to provide a revenue stream in lieu of federal funding. Together, New York's memorial and museum cost more than $700 million to build, financed by government agencies and private donations, including $15 million from former Mayor Michael Bloomberg (who is also the majority owner of Bloomberg LP, the parent company of this publication). But the museum will need to bring in more money to meet operating costs not covered by the $24 admission fee.
"A historic museum is much like a church; you have to have income to survive," says Kari Watkins, the executive director of the Oklahoma City National Memorial and Museum. "For those stories to be told, for those lights to be turned on, for that water to flow, you have to make income." Her museum welcomes 200,000 visitors a year and derives 25 percent of its revenue from its gift store.
Watkins also points to an inconvenient fact: Memorials carry keepsakes because people buy them, whether they're tasteful or not. Watkins says she draws the line at shot glasses, thimbles, and spoons, but that doesn't stop people from asking for them. "Every day, people are like, 'I want a spoon for my spoon collection.'"
Still, selecting merchandise is a delicate business. In Oklahoma City, those decisions are sometimes vetted by the memorial's board or the conscience committee. Watkins says that although a couple of the gift items carried at the 9/11 museum would not have passed muster (we're guessing the cheese plate), most fell within the bounds of good taste. And perhaps the shop wouldn't have been able to sidestep controversy regardless of its retail stock. "It's an opportunity for some people to take a shot," Watkins says. "And I would say a lot of those shots are from people who are still grieving, who are understandably still miserable because of their loss, and this is a way for them to have a voice."
Before it's here, it's on the Bloomberg Terminal.
LEARN MORE