Hamptons Mobile-Beauty Startup Goes After Summer Crowd
Cotten Timberlake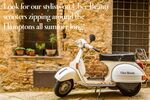 You can get a lot more than pizza delivered in the Hamptons.
Starting this weekend, professional, uniformed stylists will come 24/7 to beach houses in the resort area and make women -- and men -- beautiful in as little as 45 minutes. For a price.
Uber Beauty, a startup that charges $90 to $850 for everything from a blow-dry to a relaxer treatment, is calling itself the Hamptons' only on-demand beauty service delivered to people's door. The company, aiming to capitalize on the wealthy crowd that descends on the coastline, was founded by longtime Manhattan hair stylist David Benjamin and a private-equity investor who asked not to be identified.
"Uber Beauty obviates the need to endure the summer traffic and the crowded, poorly staffed salons in the Hamptons," the company said in a statement yesterday. "You don't have to travel back to Manhattan to get your serious work done anymore."
Benjamin, 33, who serves as chief executive officer, handpicked beauty professionals from New York and Los Angeles and imported them for the summer to serve clients from Westhampton to Montauk. Eight hair and makeup workers, who have an average of over 15 years' experience, are all living together in one house in the Springs section of East Hampton, Benjamin said. The Hamptons are comprised of more than a dozen towns and villages about 100 miles (160 kilometers) east of New York City.
"This is a reality show waiting to happen," he said in a phone interview.
Uber Beauty workers, sporting black-and-white uniforms, will cruise around the Hamptons in a fleet of Torino 150 scooters, while respecting "the privacy and discretion implicit in an in-home service," the company said. It also has a 20-foot Uber Beauty mobile beauty bar it can bring to events.
Service will be available through Labor Day, after which the company is considering moving into Manhattan, Benjamin said.
Before it's here, it's on the Bloomberg Terminal.
LEARN MORE