Two Oregon Counties Ban Genetically Modified Crops
By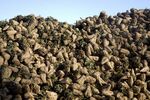 With its moderate winters and dry summers, southern Oregon yields bumper crops of herb and vegetable seeds, and activists. In 2012, an organic farmer named Chris Hardy attempted to lease four acres of farmland with the hope of growing vegetables, herbs, and seed crops. But when the owner of the property told him the other half of his land was being leased to Syngenta, the Swiss agribusiness company, to grow genetically modified sugar beets for seeds, Hardy recoiled. "That was kind of the show-stopper right there," he said.
Hardy said he had already leased property down the road and worried that his plants might be cross-pollinated with the genetically modified ones, rendering them useless. His discovery was the beginning of a campaign that culminated on Tuesday, when two counties in southern Oregon, Jackson and Josephine, passed ballot measures banning most genetically modified crops. (An exception is for research).
The measures were passed despite a state law, enacted last fall, that prohibits counties from passing regulations on seeds, including genetically modified ones, that Hardy calls the "Oregon Monsanto Protection Act."
"It was pretty clear that we had to figure out something that was going to ensure we didn't jeopardize the future of our seed supply," Hardy said. "It's not something we should be messing around with if we are trying to keep the integrity of the seed system intact."
Syngenta did not return calls Wednesday seeking comment.
Jackson County's measure is exempt from the state law, since it was under way before the law was passed. Josephine County's measure is not exempt, but supporters decided to proceed anyway, despite the threat of a legal challenge.
Competing sides on the Jackson County vote raised $1.3 million to sway voters, most of which was used to defeat the measure. Jackson County has just 205,000 residents.
The Oregon votes are the latest salvo in a frisky nationwide campaign by opponents of genetically modified food, who face formidable opposition not just from seed companies but also from scientists and even a New York Times columnist who maintain that the technology is safe. Nonetheless, several other counties have passed laws banning or restricting GMO crops, and three states—Maine, Vermont, and Connecticut—have passed GMO labeling laws for food.
Opponents of biotech crops are pushing for similar labeling measures in other states, including Oregon.
Before it's here, it's on the Bloomberg Terminal.
LEARN MORE