Taco Bell's Dream of Beer Milkshakes Will Have to Wait
By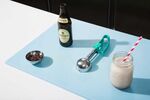 Taco Bell's soon-to-open upscale spinoff restaurant—the name is a mouthful: U.S. Taco Co. & Urban Taproom—isn't going actually to have a taproom, at least not at the first location in Huntington Beach, Calif. And that means the world will have to wait for a fast-food chain to embark on the bold experiment of popularizing the beer milkshake, an anticipated item on the menu.
Due to a snag securing a liquor license in a city already evaluating stricter alcohol rules, the Taco Bell's take on a fast-casual restaurant will instead serve soft drinks, such as glass-bottle Mexican Pepsi and Olde Brooklyn soda, for its July opening. "We literally sat down and tasted 100-something sodas last week," said Taco Bell's senior brand manager, Jeff Jenkins, who has been leading the project.
Original plans to recommend taco-beer pairings, such as lobster tacos with blueberry beer from Maine, will be replaced with taco-soda pairings. The plan to serve up milkshakes spiked with Guinness beer and tequila will instead be offered virgin.
Anyone curious about beer milkshakes with Cinnamon Toast Crunch (and a tequila caramel sauce) blended in must patiently wait—or get someone at Taco Bell's headquarters to whip up a prototype. I tried one during a recent visit: The frosty, boozy beverage has a real tequila kick.
U.S. Taco is now thought of in two variations—one with a bar, one without. The six-person team within Taco Bell is now exploring locations in Southern California for a second restaurant, which they hope will serve 50 beers (of which four to six will be on tap) and can rightfully earn the "Urban Taproom" part of the concept's name. "Even without the booze milkshakes, Huntington felt like the right place to be," Jenkins says, noting the age-old bond between surfing and tacos.
Yum! Brands, the corporate parent of Taco Bell, is testing other upscale concepts. The company has invested roughly $500,00 so far into a chicken sandwich restaurant Super Chix, which recently made its debut in Arlington, Texas. Entering the fast-casual fray—and taking on Chipotle Mexican Grill—looks like a growth strategy that calls for taking risks.