Initial Jobless Claims in U.S. Rose More Than Forecast
Shobhana Chandra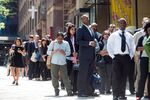 More Americans than projected filed applications for unemployment benefits last week, showing uneven progress in the labor market.
Jobless claims increased by 28,000 to 326,000 in the week ended May 17, after 298,000 filings a week earlier that were higher than initially reported, Labor Department figures showed today in Washington. The median forecast of 50 economists surveyed by Bloomberg called for a rise to 310,000. Continuing claims fell to the lowest since December 2007.
A steady decline in firings is needed for employers to boost hiring and eventually raise wages that would spur consumer spending, which accounts for about 70 percent of the economy. The four-week average of claims, a less volatile measure than the weekly figure, fell to 322,500 last week from 323,500.
"The drift over the last couple of weeks was lower, and we expect that to continue," said Gennadiy Goldberg, a U.S. strategist at TD Securities USA LLC in New York.
Stocks were higher after the report. The Standard & Poor's 500 Index rose 0.2 percent to 1,891.48 at 9:54 a.m. in New York.
Economists' estimates in the Bloomberg survey ranged from claims of 299,000 to 325,000. The Labor Department revised the previous week's figure from an initially reported 297,000.
Total Beneficiaries
Last week included the 12th of the month, which coincides with the period when the Labor Department surveys employers to calculate monthly payroll data. The four-week average was 312,000 during the comparable survey week in April.
The number of people continuing to receive jobless benefits dropped by 13,000 to 2.65 million in the week ended May 10.
The unemployment rate among people eligible for benefits held at 2 percent, today's report showed. This data is reported with a one-week lag.
Initial jobless claims reflect weekly firings and typically wane before job growth can accelerate.
U.S. payrolls expanded in April by 288,000 workers, the biggest gain since 2012, after a 203,000 gain in the prior month, the Labor Department reported on May 2. The jobless rate fell to 6.3 percent, the lowest level since September 2008.
The progress in employment, together with rising real estate values, is contributing to household purchases at stores including Lowe's Cos., the second-largest U.S. home-improvement retailer. The Mooresville, North Carolina-based company posted first-quarter profit that topped analysts' estimates.
Home Prices
"Consumers continue to have an increased willingness to invest in their homes" because home prices keep rising, Chief Executive Officer Robert Niblock said in a telephone interview yesterday.
Honeywell International Inc., a Morris Township, New Jersey-based manufacturer of products from car coolants to fighter-jet parts, is among businesses staying cautious about adding workers in developed markets such as the U.S., the world's largest economy.
Honeywell is "still hiring" in developed countries, Dave Cote, chief executive officer, said on May 19 at a conference presentation that was telecast. "It's just that they're not hiring at a rate that exceeds attrition." At the same time, "there has never been a cap or a restriction on hiring for high-growth regions," he said.
Some companies are paring. Legg Mason Inc., a Baltimore, Maryland-based money manager, is firing 62 Batterymarch Financial Management employees as it combines the affiliate with QS Investors, the global quantitative equity firm it is purchasing this year. The employees will depart beginning in July, and 12 will join QS Investors, Mary Athridge, a spokeswoman, said in an e-mail this month.
"Conditions in the labor market continued to improve over the intermeeting period and participants generally expected further gradual improvement," Fed policy makers assessed at their April 29-30 meeting, according to minutes released yesterday.
Before it's here, it's on the Bloomberg Terminal.
LEARN MORE