Putin Tilts to Asia With $400 Billion China Gas Deal
Elena Mazneva, Stepan Kravchenko and Henry Meyer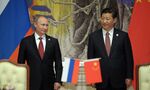 Russia's $400 billion deal to supply natural gas to China after more than a decade of negotiations is tilting the world's largest energy exporter toward Asia as ties worsen with the U.S. and Europe.
Russian President Vladimir Putin is turning eastward as sanctions imposed by the U.S. and the European Union because of the standoff over Ukraine batter the Russian economy. The increasing alienation makes trade with China, the country's largest trading partner after the two-way volume surged sevenfold in the past decade to about $94 billion last year, even more important.
"Russia needed this deal, not just because of the fear of losing European markets, but the broader geopolitical situation," Bobo Lo, an associate fellow at the Chatham House research group in London, said by phone. "Russia can manage bad relations with the U.S. and the EU, but it can't manage that and an uncertain relationship with China."
Putin yesterday in Shanghai called the signing an "epochal event." While the price wasn't disclosed, he said its satisfies both countries. The deal to supply gas through a new pipeline was completed after a decade of negotiations, mostly because of a disagreement over the price.
The ruble strengthened 0.3 percent to 34.415 per dollar by 7:39 p.m. in Moscow, gaining for a third day. OAO Gazprom shares advanced 0.8 percent to 146.58 rubles.
The accord between the world's largest energy exporter and the biggest consumer will allow state-run gas producer Gazprom to invest $55 billion developing giant gas fields in eastern Siberia and building the new pipeline, Putin said.
'Largest Ever'
Gazprom Chief Executive Officer Alexey Miller signed the deal with Zhou Jiping, chairman of China National Petroleum Corp. The agreement is for 38 billion cubic meters of gas annually over 30 years, or about 20 percent of its sales to Europe, Miller said. While he declined to give a price, he said the total value would be about $400 billion.
"This is the largest ever contract for Gazprom," Miller said, adding the deal was clinched at 4 a.m. Shipments will start in four to six years, he said.
Russia will use the contract as additional leverage during gas talks with the EU and Ukraine that resume May 26, Andy Liu, an analyst at Teneo Intelligence, said in an e-mailed report.
Even if China can't immediately replace Europe as Russia's main market for gas exports, "Moscow will likely try to gain an upper hand in the run up to the negotiations, presenting the new contract with China as another sign that Europe needs Russia more than vice versa," Liu wrote in the report.
Advance Payments
China may make as much as $25 billion in advance payments under the contract to invest in the necessary infrastructure, Russian Energy Minister Alexander Novak told reporters yesterday. The government in Beijing, responsible for a pipeline on its territory, will spend at least $20 billion on its construction, Putin said.
Russia and China will start talks on a second pipeline to the west of the initial route, Miller said.
Gazprom supplies about 30 percent of Europe's gas, at an average price of $380.5 per thousand cubic meters last year. The price in the contract with China is more than $350, Interfax reported, citing a person it didn't identify.
"The price seems to be at the level of European exports," Anvar Gilyazitdinov, who manages a $10 million portfolio of Russian stocks at Rye, Man & Gor Securities, said by phone from Moscow. "It's adequate. Gazprom will be able to make money at that price."
'Significant Risks'
Still, the fact that the price wasn't made public will feed suspicions that "there is nothing to brag about for Russia," said Masha Lipman, an analyst at the Carnegie Moscow Center.
The deal also raises concerns that over-dependence on China will reinforce Russia's focus as an exporter of natural resources and hold back the development of high-technology areas of the economy, Lipman said.
"There are significant risks for Putin," Lipman said. "Instead of the West, China now will develop significant leverage in Russia. And the more Russia relies on China rather than the West as an economic partner, the less chance there will be for Russia to modernize its economy. Russia is stuck with being a resource-based economy now."
Before it's here, it's on the Bloomberg Terminal.
LEARN MORE