Fischer Confirmed by Senate as Fed Governor in 68-27 Vote
Jeff Kearns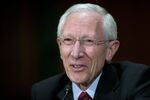 The U.S. Senate confirmed former Bank of Israel Governor Stanley Fischer to the Federal Reserve Board of Governors, while postponing a separate vote on his nomination to be vice chairman of the central bank.
Fischer, 70, was approved today on a 68-27 vote, leaving little doubt that he will win Senate support to fill the No. 2 role Janet Yellen vacated in February when she succeeded Ben S. Bernanke as Fed chair. The Senate will vote at "some later time" on confirming Fischer as vice chairman, said Majority Leader Harry Reid, a Nevada Democrat.
That vote would give Yellen, who urged the White House to offer Fischer her former position, a trusted and tested deputy to help her unwind the most aggressive monetary stimulus in the Fed's history. Fischer has crisis-fighting experience, having spent much of the past quarter-century in global policy making as a former World Bank chief economist, top International Monetary Fund official and central banker.
As vice chairman, who traditionally is the chairman's main ally and is chosen for a key assignment, Fischer probably would take up the role Yellen formerly played on communications strategy, according to Roberto Perli, a former Fed board economist.
"He would be very instrumental in forging the exit strategy, and the communications strategy around the exit, to minimize misunderstandings with the market," said Perli, now a partner at Cornerstone Macro LP in Washington. "Experience matters, especially the knowledge of how markets react to central bank actions."
Israeli Economy
Fischer, who holds both U.S. and Israeli citizenship and lives in New York, stepped down as governor of the Bank of Israel on June 30, midway through his second five-year term. He was credited with helping the $258 billion economy weather the global financial crisis better than most developed countries.
President Barack Obama nominated Fischer in January, calling him "one of the world's leading and most experienced economic policy minds."
Fischer would succeed Yellen in a post that she turned into a platform for promoting greater transparency, including publishing the Fed's goals for employment and inflation.
Fischer was born in Zambia, then called Northern Rhodesia. In the early 1960s, he spent six months on a kibbutz on Israel's Mediterranean coastal plain, where he combined learning Hebrew with manual labor, picking and planting bananas.
Bernanke's Teacher
He earned his doctorate in economics in 1969 at the Massachusetts Institute of Technology, where he studied with future Nobel laureate economists Paul Samuelson and Robert Solow. He joined the faculty as an associate professor in 1973 and later taught future policy makers, including Bernanke and European Central Bank chief Mario Draghi.
Fed policy makers, after five years of holding interest rates near zero and more than quadrupling the balance sheet to a record $4.3 trillion, have begun the first phase of scaling back stimulus.
The policy-setting FOMC has pared its monthly asset-buying by about half since December, reducing monthly purchases in $10 billion increments at each of the past four meetings to a current pace of $45 billion. Policy makers said last month that further reductions in "measured steps" are likely as the economy shows signs of picking up.
With bond buying likely to end this year, officials are already weighing how to avoid roiling global markets when they raise the benchmark interest rate for the first time since 2006. Projections released in March show policy makers expect rates to rise to 1 percent at the end of 2015 and 2.25 percent a year later.
Dudley's Outlook
The pace of eventual interest-rate increases "will probably be relatively slow," depending on the economy's progress and how financial markets react, Federal Reserve Bank of New York President William Dudley said yesterday.
Fischer was chief economist at the World Bank from 1988 to 1990. After returning to teaching at MIT, he joined the IMF as the No. 2 official in 1994, helping to quell financial crises in Mexico, Russia and Asia. He left the IMF in 2001 and joined Citigroup Inc. as a vice chairman from 2002 to 2005.
During his March nomination hearing before the Senate Banking Committee, Democratic Senator Elizabeth Warren of Massachusetts asked if he was concerned that a number of former Citigroup executives have served in Democratic administrations.
Banking Experience
Fischer defended his experience at the New York-based firm as valuable. "Without that experience I would have come to it largely with an academic background without ever having seen the inside of a bank and furthermore ever having been in the private sector," Fischer said.
The banking panel approved Fischer's nomination April 29, along with those of two other people for the Board of Governors: Lael Brainard, a former U.S. Treasury undersecretary for international affairs, and Jerome Powell, who was nominated for a second term. Those two still await a vote by the full Senate.
Even with all three nominees approved, the White House would still have two more seats to fill on the seven-member board. Yellen has said she favors having a community banker join the board after two members with experience in the industry, Elizabeth Duke and Sarah Bloom Raskin, left over the past eight months.
The Fed board has always had at least four of its seven seats filled since the central bank's current structure was established by Congress under the Banking Act of 1935. Board members share the power to set monetary policy with the presidents of the 12 regional reserve banks.
Governors all vote on the FOMC, along with the president of the New York Fed. The remaining 11 district bank presidents share four votes on a rotating basis.
The board, with just four members until Stein's departure, has been so thinly staffed just three times since the 1930s. The other instances were in 2009 and 2010.
Before it's here, it's on the Bloomberg Terminal.
LEARN MORE