BOJ Refrains From Easing With Signs Japan Weathering Tax Rise
Toru Fujioka and Masahiro Hidaka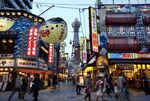 Japan's central bank refrained from boosting stimulus and raised its view of business investment as the economy shows signs of weathering the impact of the first sales-tax increase since 1997.
The Bank of Japan will continue to expand the monetary base at a pace of 60 trillion yen to 70 trillion yen ($691 billion) per year, it said in a statement today in Tokyo, in line with forecasts of all 32 economists in a Bloomberg News survey.
While an economic contraction is projected for this quarter, companies' plans to boost investment are adding to signs that growth may bounce back. At the same time, the yen's gains to a more than three-month high against the dollar add headwinds to Governor Haruhiko Kuroda's bid to spur 2 percent inflation, with economists forecasting that more monetary loosening will be needed to achieve the goal.
"Kuroda made no reference to additional stimulus" at a press conference following the decision, said Hideo Kumano, executive chief economist at Dai-ichi Life Research Institute in Tokyo. "If he continues to refrain from giving any hints about further easing, the risks of the yen strengthening will grow."
The yen rose after the announcement, climbing to 100.82 per dollar, its highest since Feb. 5. The currency's 4.3 percent gain this year reverses some of last year's losses that helped stoke inflationary pressures. The Topix index of shares closed down 0.3 percent today, dented by the currency's rise.
Short-lived setback
There's no particular reason for the yen to climb given domestic and overseas economic conditions and trends in financial markets, Kuroda said at the press conference.
"As we of course watch a range of economic indicators, it's natural to watch foreign exchange rates and stocks from the perspective of their effects on the economy," Kuroda said. "We won't conduct monetary policy by targeting foreign exchange rates."
The economy is forecast to shrink an annualized 3.4 percent this quarter after 5.9 percent growth in the first three months of the year as the 3 percentage point tax increase depresses spending. Department store sales fell 12 percent in April, less than a 14 percent decline in April 1997 following the previous increase in the levy.
Gauges of business spending to consumer sentiment indicate the setback to the world's third-biggest economy could be short-lived.
Business Investment
Machinery orders -- a leading indicator of private capital expenditure -- rose at the fastest pace since 1996 in March and companies plan further increases this quarter after corporate spending helped drive growth in the January-March period at the fastest pace since 2011.
Investment "has increased moderately as corporate profits have improved", the BOJ said in a statement, revising a view in its outlook report on May 1 that "the pick-up in business fixed investment has become increasingly evident as corporate profits have improved."
A measure of sentiment on Japan's economic outlook among taxi drivers, restaurant staff and other workers soared by a record in April, according to the Cabinet Office.
"I've seen towns swarming with shoppers even after the sales-tax hike," Hiromasa Yonekura, head of the Keidanren business lobby and chairman of Sumitomo Chemical Co. said on May 7. "The economy will head toward growth during the summer."
Japan's trade deficit shrank in April as imports rose the least in 16 months after the sales-tax increase, data today showed. Overseas shipments increased 5.1 percent from a year earlier. The BOJ today maintained its view on exports, saying they "have recently leveled off more or less."
Inflation Stalls
The BOJ's unprecedented easing helped to weaken the yen 18 percent against the dollar in 2013, boosting import costs and helping to trigger gains in consumer prices from June last year.
Inflation excluding fresh food -- the central bank's main price measure -- stayed at 1.3 percent in March for a fourth straight month.
While the BOJ forecasts price gains will accelerate, most economists surveyed by Bloomberg doubt the central bank will reach its goal in its projection period that runs through the fiscal year ending March 2017.
Seventy-five percent forecast the BOJ will boost stimulus by the end of the year, with 38 percent seeing a move in July, according to a Bloomberg poll this month.
The yen could strengthen to 100 per dollar or higher by the end of this year if the BOJ doesn't ease further by then, according a Citigroup Inc. report written by analysts including Kiichi Murashima.
"The BOJ won't be nervous unless the yen goes above 100 yen," said Dai-ichi's Kumano. "Kuroda will keep on signaling willingness for more easing if needed to sustain expectations in the markets."
Before it's here, it's on the Bloomberg Terminal.
LEARN MORE