A New Airline Wants to Land Business Travelers on the Water
By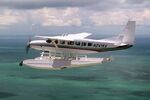 Business travelers in a hurry love to avoid the gantlet of security lines and crowded gates. A new airline promises to skip airports all together.
Tailwind Air Service plans to begin daily flights next month from Manhattan's East 23rd Street Skyport Marina to Boston and Washington, D.C. The nine-seat Cessna seaplanes take off and land in the relatively depopulated water. The company describes itself as the first commercial seaplane carrier to serve the three business destinations.
The new airline is hoping to grab a tiny piece of the 3,000 daily business travelers who fly among those cities. Delta and US Airways have current hourly nonstops from New York's LaGuardia Airport. Amtrak also offers its high-speed Acela business-class service from Manhattan to Boston and Washington's Union Station. None make a splash on landing.
"If we fly 3,000 people a year, we'll be doing fine financially," says Melissa Tomkiel, a former entertainment lawyer at Pryor Cashman who helped establish Tailwind's sister company, Fly the Whale, in 2010. That airline flies in the summer between Manhattan and Nantucket Island and the Hamptons on Long Island. "We recognized a need for efficiency and speed and people's willingness to pay a premium for shorter travel with our Hamptons route," Tomkiel says.
Tailwind will charge $450-$650 for each one-way flight. Fly the Whale seaplane flights cost $550 each way to the Hamptons and $575 to Nantucket.
The Boston and Washington flights will initially land at Logan and Dulles airports, respectively, but Tomkiel says the company is working with city officials to move both flights to water locations next year. Flying into District of Columbia airspace at all requires special security clearances.
While Tailwind passengers won't collect frequent-flyer miles from Delta or American, they will still see complimentary beer and wine en route. "Free booze isn't a problem," says Tomkiel. "We've got that covered—we know exactly what these customers like."
Over time, Tomkiel hopes to see seaplanes find greater use in more American cities. And not just in Alaska and the Pacific Northwest, where companies such as Northwest Seaplanes and others have built robust businesses shuttling people from Seattle to Vancouver and among the San Juan Islands. Tomkiel says she is considering several East Coast locations for expansion, including Florida-to-Bahamas routes. She's even looking farther west. "Chicago is a city on a beautiful lake, and there are no seaplanes there," Tomkiel says.