Christie's $807 Million Budget Jam Tires Investors: Muni Credit
Elise Young and Michelle Kaske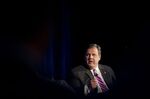 Chris Christie told a fiscal summit in Washington last week that the traffic scandal dogging his administration will be a career "footnote." New Jersey's governor may be right, as revenue shortfalls, credit downgrades and rising pension costs threaten to define his legacy.
The state must have a 2015 spending plan in place six weeks from now, and Christie has proposed New Jersey's biggest budget ever, at $34.4 billion. More pressing is a 2014 shortfall of $807 million, mostly from missed estimates on income-tax collections, that needs to be filled by June 30.
Treasurer Andrew Sidamon-Eristoff goes before Senate and Assembly budget committees this week to explain Christie's next move. Investors are tiring of overly optimistic revenue estimates and pension and health-care expenses crowding out other budget needs, said Howard Cure, head of municipal research at Evercore Wealth Management LLC.
"Going from one year to the next and then trying to put out one fire after another doesn't instill a lot of confidence," said Cure, whose New York-based firm oversees $5.2 billion.
The 51-year-old Republican governor, a potential 2016 presidential candidate, has said all options, including a smaller pension payment, are open to bring the budget back into balance.
Budget Tricks
"I can't tell you exactly how I am going to fix this until next week," Christie said at the Peter G. Peterson Foundation's Fiscal Summit in Washington May 14.
Christie shook the faith of Standard & Poor's when he plugged an earlier budget deficit this year by allotting $94 million less for pensions and netting $92 million from a pledge of tobacco-bond revenue to investors. S&P cited such one-time maneuvers among reasons for a downgrade on April 9. Fitch Ratings and Moody's Investors Service followed with cuts in May.
"We've got to find a solution and almost all of the money is already out the door," Senate President Stephen Sweeney, a Democrat from West Deptford, said by telephone. "There are only so many places, but we've got to find that money."
Misery Loves...
Christie blamed the revenue miss on federal tax increases that led top earners to move up payments. New Jersey isn't the only state struggling with its tax projections, he said, citing as an example Connecticut's miss. In Pennsylvania, collections through April were $425 million, or 1.7 percent, below projections.
Evercore is waiting for New Jersey lawmakers to develop a long-term strategy to address retirement costs and balanced budgets. The company has been bypassing the state's general obligations and appropriation-backed debt and instead is buying New Jersey Higher Education Student Assistance Authority bonds, which finance student loans and don't rely on state revenue for repayment, Cure said.
New Jersey's fiscal shortcomings have led to six downgrades under Christie, tying the record set by Democrat Jim McGreevey. From the start of 2010, when Christie took office, through 2013, New Jersey ranked 27th in economic health among states, according to data compiled by Bloomberg.
Traffic Jam
As Christie wrestles with the 2014 and 2015 budgets, a panel of New Jersey lawmakers and the U.S. Attorney's office in Newark are investigating his administration's ties to deliberate lane closings at the George Washington Bridge.
E-mails showed that Bridget Anne Kelly, an ex-Christie deputy chief of staff, and David Wildstein, a former executive for the Port Authority of New York and New Jersey, cooperated last September to tie up traffic in Fort Lee, whose mayor didn't endorse Christie for re-election.
Christie has said he wasn't aware of the closings. At last week's fiscal summit, the governor told CBS News anchor Bob Schieffer that the matter would be a "footnote" in his career, and it will have no effect on his future.
"It will have none because I didn't do anything," he said during an on-stage interview with Schieffer at the summit.
The governor built a national profile as a cost cutter, with a first term defined by an agreement with the Democratic-led legislature to get state workers to contribute more money and work more years for pensions and health benefits.
"Maybe the folks in Washington, D.C., should tune into their TVs right now -- see how it's done," Christie told supporters in Asbury Park on Nov. 5, when he defeated Democrat Barbara Buono by 22 percentage points to win a second term.
Opposite Directions
Six months later, downgrades have left the state with the fifth-highest credit grade from Moody's, S&P and Fitch. Moody's A1 grade ties it with California and leaves it above only Illinois among the 50 states. Moody's and Fitch give it a negative outlook, meaning more cuts are possible. California has a positive outlook from S&P because of improving finances under Democratic Governor Jerry Brown.
With benchmark yields setting an 11-month low, New Jersey has benefited as investors are reaching for lower-rated issuers. Slowing muni sales are also keeping a lid on borrowing costs. Buyers demand 0.21 percentage-point of extra yield to buy 10-year New Jersey debt instead of top-rated munis, down from as high as 0.44 percentage point in January.
"If there was more supply, then they would be forced to pay an additional premium for the problems they're having," Cure said.
Reaching Limit
In March, Christie cut this year's pension contribution after he revised actuarial assumptions, a move vetted by consultants and the state's public-pension boards. The recalculation showed Christie has "exhausted" options for cuts, Baye Larsen, a Moody's analyst, wrote in a March report.
"The state's liquidity position has weakened to levels that provide minimal cushion against budget surprises," Larsen said in Moody's downgrade report. "Budget solutions will be increasingly difficult."
The Moody's decision still "leaves New Jersey with a strong credit classification and unimpeded market access," Joseph Perone, a spokesman for Sidamon-Eristoff, said in a May 16 e-mail.
"We will take whatever action is necessary to offset the shortfalls and ensure a constitutionally balanced budget," Perone said.
Before it's here, it's on the Bloomberg Terminal.
LEARN MORE