AT&T Said to Aim to Announce DirecTV Deal by Monday
Jeffrey McCracken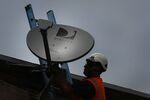 AT&T Inc. is aiming to announce an agreement to acquire DirecTV by tomorrow, according to a person familiar with the matter, adding satellite-TV subscribers as the biggest competitors in the pay-TV industry bulk up.
Both boards are scheduled to vote today on the terms, said the person who asked not to be identified because the information is private. While the two sides had expected the deal to take longer, they made progress on key structures of the transaction in recent days, two people said.
The purchase, which people have said would value DirecTV at about $50 billion, would give AT&T a national satellite-TV provider to combine with its U.S. wireless service and phone and high-speed Internet offerings. AT&T Chief Executive Officer Randall Stephenson is using deals to get bigger as competitors Comcast Corp. and Time Warner Cable Inc. plan their own merger and as consolidation accelerates across the entire communications industry.
Brad Burns, a spokesman for AT&T, declined to comment. Darris Gringeri, a spokesman for DirecTV, didn't respond to requests for comment. BuzzFeed reported yesterday that the companies were on track to announce the acquisition today.
DirecTV, which doesn't have its own phone service or a competitive Internet offering, is under rising pressure to find a partner as more viewers go online for video and the pool of traditional pay-TV customers shrinks in the U.S.
Under the plan being discussed, management of DirecTV, the largest U.S. satellite-TV provider, will continue to run the company as a unit of AT&T, people familiar with the matter said last week. DirecTV CEO Mike White is likely to retire after 2015, the people said.
Price Talk
A price could come in close to $95 a share, depending on how much cash or stock is in the transaction, another person said last week. The person said White's future after a merger is also still being negotiated. The price could go as high as $100 a share, two other people said at the time.
With its shares up 25 percent this year to $86.18, DirecTV had a market value of about $43 billion on May 16 and had about $18 billion in net debt as of March 31. AT&T is valued at about $191 billion and had net debt of about $76 billion at the end of March.
The question with all of the potential tie-ups in the communications industry is whether regulators will allow them. Comcast's takeover of Time Warner Cable hasn't been approved yet. A merger of DirecTV and satellite-TV rival Dish Network Corp. was blocked more than a decade ago, and AT&T had to abandon a purchase of T-Mobile in the U.S. several years ago in the face of antitrust opposition.
Termination Fee
The need for regulatory approval makes the size of a termination fee important in the AT&T-DirecTV deal structure. The breakup fee would to go DirecTV from AT&T if the deal falls apart for various reasons, including being blocked by regulators on antitrust grounds. In AT&T's failed effort to acquire Deutsche Telekom AG's T-Mobile U.S. unit in 2011, the company paid out $3 billion in cash plus wireless frequencies and a roaming agreement.
DirecTV and AT&T are planning on a 12-month regulatory process to review the deal, a person with knowledge of the matter has said.
DirecTV would give AT&T, the second-biggest U.S. mobile-phone carrier, a pay-TV business that's expanding in Latin America and that's getting U.S. customers to pay increasingly higher monthly bills. DirecTV's exclusive content includes the National Football League Sunday Ticket package and products such as Genie, a multiroom digital video recorder. DirecTV has 20.3 million U.S. customers and 18.1 million in Latin America, including Sky Mexico, of which it owns 41 percent.
America Movil
Getting ownership of DirecTV's Latin American units would cause a conflict for AT&T, which holds an 8 percent stake in America Movil SAB -- a direct competitor to DirecTV in countries including Brazil and Colombia. DirecTV's Latin America operation includes the minority stake in Sky Mexico, which is controlled by Grupo Televisa SAB, one of America Movil's biggest rivals.
Comcast's plan to acquire Time Warner Cable will create an even bigger provider of both TV and Internet in the U.S. In March, AT&T's Stephenson called the Time Warner Cable takeover an "industry-redefining deal."
A deal with DirecTV shows that AT&T has turned its attention back to the U.S. market since the Time Warner Cable takeover was announced. AT&T had previously explored wireless opportunities in Europe, such as acquiring Vodafone Group Plc.
Since then, Bloomberg reported in March that DirecTV had also drawn merger interest from Dish Chairman Charlie Ergen. While a DirecTV merger is tempting, the U.S. satellite-TV rival is too expensive to pursue, Ergen said earlier this month on a conference call to discuss first-quarter earnings.
One of the biggest beneficiaries of DirecTV's rally this year is Warren Buffett's Berkshire Hathaway Inc., thanks to a stake built by his deputy stock pickers at about half the current price. Berkshire had about 34.5 million shares as of March 31, a regulatory filing showed last week.
Before it's here, it's on the Bloomberg Terminal.
LEARN MORE