To Attract Home Buyers, Developers Build Schools First
Developers draw buyers by building classrooms for their kids
by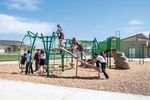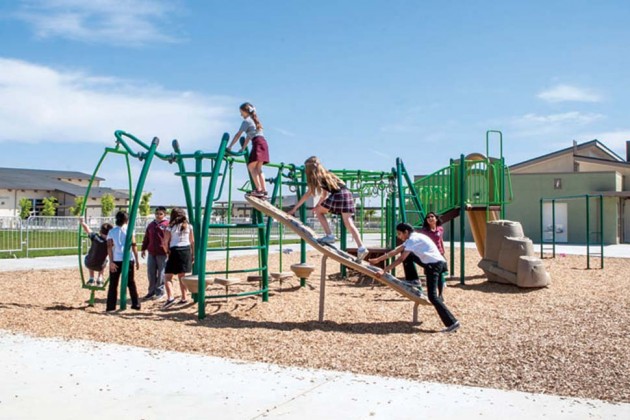 Real estate developer FivePoint Communities Management is already building a school at its Great Park Neighborhoods project in Irvine, Calif., even though it's still selling the first 700 homes. "We build the schools ahead of time," says Emile Haddad, chief executive officer of FivePoint, which has permits for about 10,000 homes at Great Park. "That way we always have them ready."
Homebuilders have touted local schools, along with parks and recreation facilities, to attract buyers to their communities for decades. Now, as school districts face tight budgets and homebuilders compete to draw families able to qualify for mortgages, developers are taking the lead, helping to launch public, private, and charter schools.
Sales of new single-family homes have trailed the broader housing recovery, in part because buyers balk at high prices or the remote neighborhoods where more affordable residences are available. New home sales fell 14.5 percent in March from February to an annual pace of 384,000, according to the U.S. Department of Commerce.
In Apollo Beach, Fla., Newland Real Estate Group donated space so a private Montessori preschool could be ready to open in 2012, before the first house sold in its Waterset development. The school, which is expected to add higher grades, intends to attract parents who might be turned off by "test-score issues" at nearby public schools, says Teri Slavik-Tsuyuki, chief marketing officer for Newland, the largest U.S. developer of master-planned communities, with 28 projects in 14 states. "We don't do this because there are exactions that the counties are dragging out of us," says Slavik-Tsuyuki. "We knew that a school was the right thing for the community, and that's just the cost of doing business."
At nearby FishHawk Ranch, Newland spent $5 million in 2009, at the bottom of the housing market, to prepare a building site for a new high school, almost five years before model homes were ready. "It was like Field of Dreams," Slavik-Tsuyuki says, referring to the movie's famous "If you build it, he will come" line. "There's this massive new school in the middle of this vacant, open master-planned community."

Cambay Group, developer of River Islands in Lathrop, Calif., built a charter school there in August—creating a nonprofit company to operate it—nine months before the first model homes were scheduled to open. The River Islands Technology Academy has about 400 students in kindergarten through sixth grade and almost 600 on a waiting list, according to Susan Dell'Osso, project director of the community 77 miles east of San Francisco.
Cambay has 11,000 River Islands residences planned, and the school will give priority to children of the development's homeowners. "It probably adds 10 to 20 percent to home values," says Dell'Osso. "A good school makes a tremendous difference in a master-planned community."
While there's a direct correlation between top-performing schools and premium real estate prices, it's not clear which causes which, according to Stan Humphries, chief economist at Zillow, the property data website. "On the one hand, parents desire good schools, which leads them to bid up home prices in areas with good schools," he wrote in an e-mail. "On the other hand, parents in more affluent areas have resources that better arm both their children and their schools to compete in terms of performance."
For many parents, the premium for a house near high-quality public schools seems reasonable compared with the cost of a private education, says Haddad of FivePoint, whose children attended an Episcopal school where tuition is now more than $22,000 a year. "If you ask people today why they're buying a home in Irvine, the No. 1 answer is the school district," he says. Irvine's Jeffrey Trail Middle School is accommodating students from Haddad's Great Park development until his school's expected completion in 2016.
Parents waiting in the Jeffrey Trail parking lot earlier this month said they're paying a premium for their homes so they can enroll their kids in the new school. May Brown, the mother of a seventh-grader, is renting while on the waiting list to buy a new house. She expects to pay $750,000 to $1 million for a Mediterranean-style four-bedroom home. That's about three times the cost of comparable homes in Tennessee, where her family lived before returning to their native California last August. "We moved here because of the schools," says Brown. "In every town, you have to pay a premium to buy a house near good schools."
Mi Jeong Oh says she and her husband chose to live in Irvine because they wanted their son, now a ninth-grader, and daughter, a seventh-grader, to attend the local schools. "Irvine is very expensive," Oh says as she waits for her daughter at Jeffrey Trail. "After they graduate, I'm going to move to another place."
Before it's here, it's on the Bloomberg Terminal.
LEARN MORE