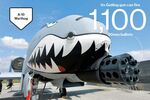 Russell Carpenter owes his life to the ugliest warplane in the Pentagon fleet. When about 3,000 U.S. troops traveling on a dirt road in Iraq came under fire soon after the 2003 invasion, Carpenter, then an Air Force chief master sergeant, called for air support from the only fighter jet that could fly low and slow enough to tell friend from foe: the A-10. "They would have killed hundreds of our dudes" if it weren't for the firepower of the A-10, with its seven-barrel Gatling gun that sounds like a buzz saw, says Carpenter, who's now retired.
Generations of soldiers and airmen have put their trust in the A-10, known as the Warthog for its snoutlike nose. Active-duty and retired service members including Carpenter are trying to persuade the U.S. Department of Defense to drop its plan to save $4.2 billion in operation and maintenance costs over five years by retiring all 283 of the 1970s-era Air Force planes. Some top Army officers say there's no substitute for the protection the jet has long provided to troops in ground combat. "It's ugly, it's loud," General John Campbell, the Army's vice chief of staff, said at a Senate hearing on March 26. "But when it comes in and you hear that 'BVRRR,' it just makes a difference."
The Air Force says that newer, faster aircraft, such as the F-16, F-15E, and, eventually, Lockheed Martin's new F-35 fighter, can perform the A-10's principal mission of "close air support," striking targets on the ground to help soldiers in a land battle. "We'll figure out how to do it better than it's ever been done before," General Mark Welsh III, the Air Force chief of staff, said at an April 10 hearing of the Senate Armed Services Committee.
The Warthog was routinely sent to protect troops in Iraq and Afghanistan. Its supporters question whether the military would risk doing the same with the costly F-35. "You really think they're going to allow a $200 million airplane to get down in the weeds, where it's extremely vulnerable?" says retired Lieutenant Colonel William Smith, an airline pilot who flew the A-10 in Iraq and Afghanistan.
The A-10, originally intended to destroy Soviet tanks, is better suited to close-in missions than fighters designed for air-to-air combat. A titanium "bathtub" that wraps around the bottom of its cockpit gives the Warthog better protection against ground fire. It can fly as slowly as 300 knots (345 miles per hour) without risk of stalling, compared with 450 knots for an F-16 or F-35. That allows more time to identify and shoot at ground targets. The A-10's fearsome Gatling gun, which is 20 feet long and weighs 2.5 tons, can fire more than 1,100 rounds of 30mm bullets. The F-16 and F-15E can fire fewer than half that number.
"There are niche scenarios where the A-10 probably does a better job," says Colonel Douglas Nikolai, the Air Force's director of operations force management. Yet Nikolai and other Air Force leaders say they can't afford to maintain a single-purpose plane when others can fill the void. Even if Congress were to repeal the automatic budget cuts known as sequestration, the service faces $10.7 billion in reductions from previously planned spending over the next four years. "We have to make tough choices," Nikolai says. "Is it going to cost us lives? That's open for debate."
The last A-10s, built by Fairchild Republic, now part of Northrop Grumman, rolled off the line in 1984, so retiring the plane won't shut down a plant or lay off thousands of workers, which makes mothballing the Warthog less politically painful. Its most outspoken congressional defender is Republican Senator Kelly Ayotte of New Hampshire, a member of the Senate Armed Services Committee. Ayotte has no Warthogs stationed in her state—the largest numbers are at Air Force bases in Arizona and Georgia—but her husband flew the A-10 on combat missions in Iraq. "I'm in for this fight," says Ayotte, who has pledged to find other savings in the Pentagon budget to keep the aging Warthogs in operation.
If the A-10 is saved from retirement, it will be thanks in large part to the letters, calls, and testimony of veterans like Carpenter, the retired Air Force master sergeant, now a consultant to defense contractors. Carpenter, who was awarded the Bronze Star with a V for valor for his service in Iraq, is determined to make the Pentagon understand that old doesn't necessarily mean obsolete. "This is absolutely personal," he says.
Before it's here, it's on the Bloomberg Terminal.
LEARN MORE