Disney's Million Dollar Arm: Endless Pitching
The moral of Million Dollar Arm is that marketing comes first
by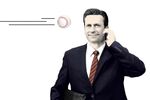 In Million Dollar Arm, Jon Hamm takes a turn in the now-familiar role of the sports dealmaker with his top button undone. Tom Cruise created the template with Jerry Maguire in 1996. Brad Pitt tried it on in Moneyball, and most recently, Kevin Costner gave it a go in Draft Day. The main requirements are barking commands into a cell phone, holding frank conversations with athletes, and soul searching behind the wheel of a car.
Million Dollar Arm is a Walt Disney production, so Hamm's version is thoroughly wholesome. He plays J.B. Bernstein, a real-life agent who went to India in 2008 to try to find Major League Baseball prospects by offering $1 million to any man who could throw three consecutive strikes at 90 miles per hour. J.B. drinks Scotch a bit, womanizes a little, and learns a lot.
You may already know Bernstein's story from his memoir, also titled Million Dollar Arm, or from the pages of Sports Illustrated. He finds two hard throwers, the lefty Rinku Singh (Suraj Sharma) and the righty Dinesh Patel (Madhur Mittal), and brings them back to America for training under University of Southern California pitching coach Tom House (Bill Paxton). Less than a year later, they have a tryout in front of MLB scouts. Even if you haven't read it, you know how the story goes: triumph, tears, cheesy swelling score.
Yet Million Dollar Arm is afraid that viewers might still be confused. Nothing is left to chance. When something awesome happens, a character says, "This is awesome!" When J.B. learns that Indians do things a little differently, an Indian tells him that "here in India we do things a little differently." And when the moral of the story is that baseball shouldn't be just about business, J.B. explains that baseball shouldn't be just about business—it's supposed to be fun. Disney knows how to hold a moviegoer's hand, but it squeezes too hard this time.
The movie ends with real footage of the two pitchers learning that the Pittsburgh Pirates have offered them minor league contracts. The scene opens an uneasy gap between Million Dollar Arm's moral—J.B. learns to let go of success and care for the players as people—and its existence as a commercial product. The movie is a coup for Bernstein no matter what happens now to his charges. The Pirates released Patel in 2010. He never made the major league roster. Singh is recovering from elbow surgery and may yet work his way through the team's minor league system.
Singh's quest to be the first Indian-born player in the majors now takes a back seat to the movie about him. The film counts ESPN analyst and Grantland editor Bill Simmons among its producers and will get the full measure of Disney's cross-promotional power. Hamm went on Sunday Night Baseball on ESPN (owned by Disney) to talk about Million Dollar Arm. At the screening I attended, viewers were encouraged to tweet using the hashtag #MillionDollarSweeps to win an Adventures by Disney Costa Rican vacation.
There's nothing surprising about any of this, but somebody forgot to tell director Craig Gillespie that movies shouldn't be just about business—they're supposed to be fun. As Singh and Patel take the mound for the film's climactic moment, the camera closes in tight on their faces, but not so tight as to omit the Under Armour logos on their shirts or the Rawlings branding on their gloves.
When Sports Illustrated profiled Singh and Patel in 2009, the two had already grown tired of comparisons with Slumdog Millionaire, which came out at the time of their tryouts in the fall of 2008 (and also includes Mittal in the cast). "We are not characters from a film," Patel told the magazine. "We want to be taken seriously as baseball players, as professional pitchers." Cue the swelling score.
Before it's here, it's on the Bloomberg Terminal.
LEARN MORE