Koreans Find Overseas Bargains a Click Away
Shoppers get better prices online, bypassing local department stores
by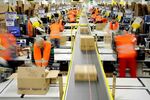 When Lim Ji-han, an office worker in Seoul, decided to buy a television last year, he ordered it from Amazon.com. The Samsung model he wanted was available at a department store, but buying it locally would have cost at least $600 more than the $1,243 he ended up spending. "Why should I pay more for the same, or a very similar, product?" he asks.
Lim is what South Koreans call a jicgoojok, a buyer who is challenging local merchants by shopping from overseas online retailers. "Word is spreading online fast that products can be bought much cheaper abroad," says Gene Park, a retail analyst at Woori Investment & Securities. The savings from shopping online more than make up for international shipping fees, added import duties, and long delivery times, he says.
Retail, like many sectors of the Korean economy, is heavily influenced by the chaebols—large, often family-owned conglomerates that function as oligopolies and prosper by capitalizing on their protected market and by charging very high prices. The government has long protected chaebols to spur growth. A 2012 AIG report on chaebol reform in the country noted that "the expansion of the chaebol into retail is at the expense of small businesses, competition, and the interests of the consumers." To gain a foothold in the market, companies such as the Gap and Chloé have signed exclusive import deals with Korean retailers and gained instant access to a large distribution channel. They have little incentive to try to establish new lines of distribution.
Local consumers, with few options other than local retailers, face prices that can run nine times higher than costs overseas. But over the last five years, blogs have sprouted up that point readers to online deals and discounts, boosting direct buying. Overseas credit card spending grew 15.4 percent in 2013, outpacing the increase in domestic spending of 3.2 percent, according to the Bank of Korea. Imports through e-commerce sites rose 47 percent in 2013, to about $1 billion, according to the Korea Customs Service.

Han Ji-won, a housewife in Seoul, says she prefers to shop from the Gap's U.S. website. Even with shipping and insurance fees, Han says she saves about 30 percent compared with shopping at the company's stores in Korea. "I don't mind the delivery time."
Share prices of the country's three biggest stores—Hyundai Department Store, Shinsegae, and Lotte Department Store—have fallen this year. The move away from in-store shopping is forcing them to slash prices, says Baek Un-chan, head of the Korea Customs Service. Last August, Polo Ralph Lauren cut prices 40 percent at its Korean stores, according to the company.
South Korea's government is pushing to open the market to more and smaller retailers, prompted by consumer complaints over the price gaps. The Ministry of Strategy and Finance recently acknowledged that the lack of competition for licensees of overseas brands is keeping domestic prices of imported goods high. In April the Customs Service said it plans to simplify its requirements for consumers who buy directly from overseas retailers and to help Koreans verify the authenticity of products.
Startups such as Malltail.com are also helping online shoppers. Based in Seoul, the company also operates in the U.S., Germany, China, and Japan. It provides customers with shipping addresses in those countries, since many online retailers don't offer international shipping, especially on fragile items like electronics, and because many websites don't recognize Korean addresses when translated into English. Malltail's revenue increased thirteenfold from 2010 to 2013, to 26 billion won ($25.4 million), the company reports.
"Korean consumers are savvy, smart, and want more choices," says Choi Seung-sik, a Malltail agent. "We're just facilitating the process and reducing the delivery risk." Global Internet companies are becoming interested in the market as the power of South Korea's big retailers erodes. Amazon plans to open a South Korean site this year, according to press reports citing industry officials.
For shoppers such as Han, who makes about 70 percent of her purchases at overseas websites, the attraction of direct buying is unlikely to go away. "Jicgoo is just a black hole. Once you start doing it, you can't stop," she says. "Why would you?"
Before it's here, it's on the Bloomberg Terminal.
LEARN MORE