Japan May Lose Its Taste for Foreign Luxury Cars
Stock market wealth has fired up sales. Higher taxes may curb them
by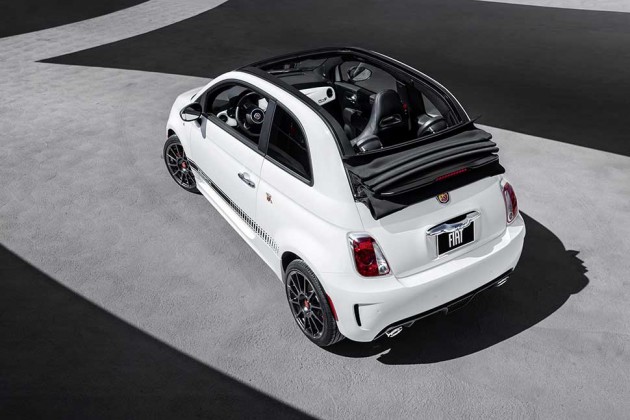 In Japan, Maserati, Volkswagen, Mercedes-Benz, and other foreign automakers have been enjoying their best sales streak in years, thanks to last year's roaring bull market—and drivers like Taichi Matsukura. He wants to stand out in a market dominated by Toyotas and Hondas. "When I opened the door, the colors and interior immediately evoked Italy," says the 42-year-old restaurant designer of the Fiat Abarth 595C convertible he bought in February to replace his Honda CR-V.
Some investors who rode last year's 57 percent rally in the Nikkei have been splurging on imported sports cars and luxury compacts. That's caused cheers among foreign automakers that had struggled to enter the Japanese market. In the year ended March 31, foreign car companies sold 302,000 vehicles, the most since 1997.
Among the beneficiaries: Mercedes-Benz, which sold a record 59,774 vehicles in the 12 months through March, up 40 percent from a year earlier, to overtake Toyota's Lexus as the top premium brand in the country; and Fiat unit Maserati, whose GranTurismo starts at 22 million yen ($217,000), which more than doubled deliveries in Japan to 714 vehicles. For the same period, foreign automakers captured 8.8 percent of car sales, excluding ultracompact kei vehicles that only domestic companies sell. That's the highest share since the Japan Automobile Importers Association began keeping records in 1989.
Just how long the good times will last for car importers is unclear. One worry: The boomlet came before Japan raised its consumption tax from 5 percent to 8 percent in an effort to deal with the nation's debt. The government cushioned some of the blow to the auto industry by simultaneously cutting its vehicle-purchase tax to 3 percent from 5 percent. Even so, deliveries of imports were down 24 percent in April compared with a year ago, vs. a 5.5 percent drop in overall auto sales. The last time the consumption tax was raised, in April 1997, car sales dropped 15 percent from the previous year and declined for 21 months in a row.
The Nikkei is down 13 percent from Jan. 1 through May 12, and the economy is forecast to shrink an annualized 3.9 percent in the quarter that began in April, according to a Bloomberg survey of economists. Still, Takeshi Miyao, an auto analyst at market researcher Carnorama Japan, expects foreign makers to extend their gains thanks to a slate of new imported models and an economy that's expected to improve later in the year. "Import car sales generally expand more in good economic cycles and shrink faster when the economy goes down," he says.
Recent foreign luxury product launches may insulate some carmakers. Mercedes-Benz introduced its compact A-Class model in January 2013 and sold 14,600 of them over the next 12 months, accounting for nearly one-quarter of its sales in Japan. "The global downsizing trend enabled foreign carmakers to introduce models more suited to Japan," says Kintaro Ueno, president of Mercedes-Benz's Japan unit.
IHS analyst Yoshiaki Kawano says foreign cars could keep gaining share through 2016. He also expects Japanese brands such as Lexus to respond, however, with more affordable entry-level cars to counter overseas luxury compacts. The wild card, and it's a big one, is a very dicey Japanese economy.
Before it's here, it's on the Bloomberg Terminal.
LEARN MORE