Halsey Minor Returns, Bearing Bitcoins
By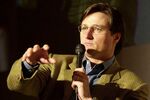 Few Internet entrepreneurs have risen as high and fallen as low as Halsey Minor. The founder of early Web news network CNET, sold to CBS in 2008 for $1.8 billion, Minor also invested early in companies such as Salesforce.com and Grand Central, which later became Google Voice. With a fortune once estimated at $400 million, he owned four homes around the country, including a former museum near Colonial Williamsburg, Va., and a neoclassical mansion in San Francisco's tony Pacific Heights.
A history of lavish spending and impetuous management caught up with him. Minor took out large loans for such extravagances as hotels, thoroughbred horses, and an art collection that included paintings by Richard Prince and a sculpture by Jeff Koons. When the banks supplying his capital got into trouble during the financial crisis, so did he. Minor declared Chapter 7 bankruptcy in Los Angeles last year, reporting assets of $50 million and $100 million in debt.
Now Minor, 49, is attempting a comeback via a technology with its own set of problems: Bitcoin. He's the founder and executive chairman of Bitreserve, which seeks to use the virtual currency to transfer funds across borders and minimize exchange fees. As he pursues redemption, Minor is also talking about his mistakes and personal turmoil. "I went through six years of depression," he says, describing himself as acutely depressed. For years, Minor says, he was taking considerable medication for his illness in an effort to avoid self-harm. "It's hard to describe to someone who has not been through what I went through, but my only goal was to get through this part of my life alive," he says.
In part, Minor blames the unpredictable financial crisis for his personal calamity. Doomed institutions Merrill Lynch and Silverton Bank called in his loans at the worst possible time, he says. Before that came his 2005 divorce, which separated him from his children and, among other things, divided his assets in half. Missing the kids also triggered unresolved issues surrounding his biological father's disappearance from his life when he was seven months old, he says. As for his personal lifestyle, he says: "I took risks I didn't otherwise need to take. I didn't need to take a $23 million loan for art. The great difference between my mistake and the banks' is that I actually had to pay for mine."
Minor says he fell out of touch with friends and colleagues for six years that "are like a fog." He lived in Los Angeles with his second wife and their four kids, most recently in a rented house in Beverly Hills. He would return to San Francisco when he had custody of his three children from his first marriage. "Ultimately I started carrying around a sleeping pill," he says. "If there was a chance I might do something, I would knock myself out and go to sleep."
He stopped drinking in 2006; last year, he stopped taking antidepressants and started to feel healthy again. He says his personal goal "is to show my children that no matter what happens, you can always come back. When you get knocked down, you get back up."
Bitreserve is Minor's way to address the problems and opportunities he sees with Bitcoin. He says most people will never be comfortable holding the volatile digital currency, which in the past six months has fallen more than 50 percent from a high of more than $1,000. Bitreserve will allow its customers to import Bitcoins, then transfer and hold them as U.S. dollars, British pounds, euros, renminbi, or yen. Users can send money over the Internet without transaction fees and perhaps eventually pay for goods and services through the site.  Minor's company intends to make money by charging foreign exchange fees amounting to a few percentage points per transaction and by investing its reserves.
Bitreserve also appears to be a means of addressing to some extent what Minor sees as the injustices involved in his own financial collapse. He says Bitreserve will be completely transparent, publishing a real-time balance sheet of its assets and liabilities and every transaction on its network, stripped of identifying information.  Accounting firm PricewaterhouseCoopers will audit the statements quarterly, he says. Unlike Mt. Gox, the leading Bitcoin exchange that went bust earlier this year, Bitreserve won't be able to hide solvency issues. Transparency "allows people to evaluate risk they are taking on," says Tim Parsa, a former Peace Corps volunteer and onetime filmmaker who is Bitreserve's chief executive officer.
Minor "is trying to get away from the idea of Bitcoin as a currency and focus on it as a payment system," says Jerry Brito, a professor of finance at George Mason University. "It's a smart idea." Brito, who got an early briefing on the system but isn't using or invested in it, points out some obvious problems. For now, BitReserve allows people only to transfer Bitcoin into and out of the system. That will make it inaccessible to the very Bitcoin-phobic people Minor is professing to target.
There are also some oddities about the company that might give customers pause. Minor is calling it Bitreserve.org, even though it is a for-profit business. He also won't disclose how much capital he has raised, or from whom. Securities and Exchange Commission filings suggest that Bitreserve has plans to raise $5 million and that the company is headquartered in the Cayman Islands. Minor says it's a Cayman company with U.S. subsidiaries in South Carolina and Washington State because of confusion as to how the U.S. government will treat Bitcoin.
Ultimately, potential Bitreserve customers will have to decide whether they want to trust Halsey Minor. While he has few friends left in Silicon Valley after years of tussling with partners and co-investors, those who remain say he deserves a second chance. "Halsey suffered way more damage than most of us during the financial crisis, and he learned a lot of lasting lessons from that," says Rob Reid, who founded the Rhapsody music service with Minor's backing. "In any event, depositing at Bitreserve amounts to betting on Halsey as an entrepreneur—not as an investment adviser. Given that he built a Nasdaq 100 company from scratch and helped so many other companies get off the ground, it's a bet I'm comfortable with. I'll be depositing my own Bitcoin with him."