Guns Allowed All Over—Except Near Politicians
Legislatures pass laws to let guns into schools but not statehouses
By and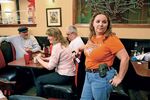 Steve Hickey, a Republican state legislator in South Dakota, has 17 guns, a National Rifle Association card, and a faith that pistol-packing residents make public places safer—except for the one where he works. "We have the most contentious issues being debated in public policy, affecting people in irate, angrily ways and affecting millions and millions of dollars," Hickey says of the copper-domed capital in Pierre, where he sponsored a bill that allows some teachers to carry firearms in schools but opposed one that would let law-abiding citizens bring them into the statehouse. "This is different than when you go work at the bar," he says. "This is different than you working at the bank."
Since the 2012 shooting of 26 students and teachers at Sandy Hook Elementary School in Newtown, Conn., 18 states have passed laws allowing guns in more places, including schools, restaurants, churches, and public buildings. The best antidote to violence, backers such as Hickey argue, is to have more citizens carrying weapons. Yet only four of those states—Utah, Idaho, Mississippi, and Texas—extend that logic to their legislative chambers.
Gun owners in South Carolina and North Carolina no longer need to disarm when entering a bar. In Arkansas, that right extends to houses of worship and religious schools with leaders who grant permission. In April, Georgia passed legislation critics called the "guns everywhere" bill, allowing firearms to be carried in airports outside of security checkpoints. In March, Indiana passed a law that allows firearms to be kept in vehicles on school property. None of these states permit the public to carry guns into legislatures.
At least 12 states allow citizens to bring firearms into capitol buildings, according to the National Conference of State Legislatures. In Idaho, an open-carry state, armed visitors to the capitol can just walk in; and in Texas, concealed-carry permit holders use a separate entrance lane to bypass metal detectors. In Wisconsin, guns are permitted in some areas of the capitol in Madison, including the floors of both legislative chambers and in the viewing gallery of the assembly. Indiana allows legislators and judges, but not citizens, to carry firearms in the statehouse.
Some of the recent gun laws are intended to keep towns and cities from enacting their own gun control measures. A new statute in West Virginia says local officials can't prevent residents with concealed-carry permits from bringing firearms into public recreation facilities such as tennis courts and swimming pools as long as the guns can be safely stored while the patron exercises. That doesn't apply to city halls or the Charleston statehouse, where it remains illegal to walk in with a gun. "They did it everywhere but where they are," says Republican Mayor Danny Jones of Charleston, the West Virginia capital. "The road to power is paved with hypocrisy. That's what's going on here."
Hickey, the South Dakota lawmaker, sponsored a "school sentinel" bill that would allow certain people with firearms expertise, including ex-military personnel or teachers who are former police officers, to carry weapons on school property. Many rural schools in the state lack the resources to employ full-time security, says Hickey, a Christian minister. But he was against a proposal that would have repealed a ban on carrying guns year-round in the capitol, which also houses the offices of the governor and the state Supreme Court. "Gun-free zones are dangerous places, except for the criminal," Hickey says. Nonetheless, he adds, "there are times and places to disarm people." Hickey offered a compromise that would have opened the building to guns on the 320 days a year when the legislature isn't in session. The bill was rejected.
BOTTOM LINE -
The bottom line: Lawmakers in 14 states have backed laws that allow guns in more public places, but keep them out of state capitols.
Before it's here, it's on the Bloomberg Terminal.
LEARN MORE