American Caviar No Longer Draws Sneers
In the Sacramento Valley, farmed sturgeon swim where cattle once roamed
By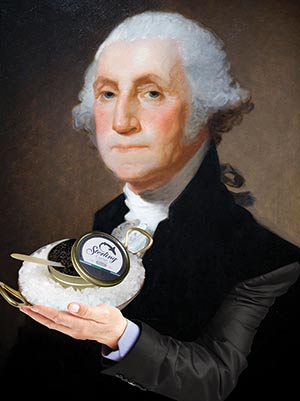 In a small complex of nondescript concrete buildings, wedged between a pair of rice farms, thousands of white sturgeon slowly circle inside 75,000-gallon tanks. It's harvest time, and the mature females are being readied for selection. Once sedated, the fish, some as big as 100 pounds, are hoisted onto a stretcher and given an ultrasound to evaluate their eggs for extraction. In a room resembling an operating theater, a single slit is made to their ripe bellies, revealing dark, pearly roe sacs. The prized eggs, better known as caviar, are carefully scooped out, weighed, sealed in plastic bags, and dispatched to a sterile, temperature-controlled room for processing. The rest of the fish is sold to restaurants.
It's a long way from the Caspian Sea. Sterling Caviar's aquaculture farm is located in the tiny town of Elverta (pop. 5,492) in California's Sacramento Valley, an area once known for its endless stretches of cattle ranches. A holding of Stolt-Nielsen, a Norwegian group with a range of maritime businesses, Sterling expects output from the four sturgeon farms it operates in the area to reach 12 tons this year, generating about $10 million in revenue.
Much as Napa Valley wines were once snubbed by Europhiles, Sacramento Valley caviar was initially shunned by purists, who deemed it a poor substitute for wild varieties harvested in Russia and Iran. The West Coast product, which is firmer, less salty, and not as fishy as wild osetra and beluga, is now widely accepted. Celebrated chefs including Thomas Keller of the French Laundry are showcasing California white sturgeon caviar on their menus. It also accounts for a significant share of the global sales of Petrossian, the 94-year-old Paris-based purveyor of premium caviar. "The caviar market has completely changed," says managing director Alexandre Petrossian, who is the grandson of one of the company's co-founders. "It's really exploded."
Overfishing, poaching, and pollution in the Caspian Sea and Russia's Volga River drove the species of sturgeon that produces the treasured beluga, osetra, and sevruga caviars to the brink of extinction. To protect the imperiled population, nations that are signatories to the Convention on International Trade in Endangered Species (Cites) implemented an export ban in 2005.

There are no reliable figures on worldwide caviar production. Estimates of the value of the global trade run anywhere from $50 million to $100 million. According to International Aquatic Research, farmed caviar production almost doubled from 2005 to 2010, when it hit 125 tons. The Geneva-based body that administers Cites puts total caviar output in 2010 at 71 tons, 8 of which were wild. Those numbers do not take into account wild caviar that is sold illegally.
The prohibition on exports coupled with evangelizing by early-adopter chefs, helped shift perceptions on farmed caviar. "It really motivated more people to step over the line of stubbornness and say, 'This isn't bad, and it's actually pretty tasty,' " says chef Rick Moonen, the owner of RM Seafood in Las Vegas.
Sterling, which today accounts for 60 percent of U.S. production, was founded 30 years ago by a group of entrepreneurially minded local scientists and fish farmers who set up a sturgeon hatchery using wild white sturgeon from the Sacramento River. The toothless bottom feeders resemble prehistoric creatures and can live as long as 125 years, growing to more than 200 pounds. A female takes about 8 to 10 years to mature before she can produce roe. Sterling's first harvest was in 1993.
Since then many techniques have been introduced that have not only made caviar farming sustainable but also made the product more consistent and better-tasting. "In those first days," says Bobby Renschler, Sterling's production manager, "it was like throwing darts in the dark." Today each female sturgeon is implanted with a microchip encrypted with its genetic information, which the company uses to determine the top 35 percent of the herd that will yield the most and best-quality eggs. The fish are housed in fiberglass and cement tanks, segregated by size, age, and sex. A computer system monitors each tank for temperature and oxygen levels and operates a special underground filtration system. The system also releases nutrition-rich feeding pellets at timed intervals. Females are artificially fertilized to breed new generations of sturgeon.
Although it's potentially lucrative—a kilo of Sterling's top-grade caviar, Imperial, is priced at $3,550 on the company's website—caviar farming is capital-intensive. "You need $20 million investment minimum to be able to do anything," says Shaoching Bishop, Sterling's managing director and a former Goldman Sachs analyst. Then there are the costs of keeping an operation up and running. Bishop says the electricity bill at the Elverta farm is $20,000 a week.
Marine biologists and aquaculture experts say farmed caviar will eventually replace the wild variety altogether, as farms proliferate around the world. Italy's Agroittica Lombarda began harvesting caviar in 1991 and today produces more than 20 tons of eggs each year. In Abu Dhabi the $115 million Emirates AquaTech launched last November with the capacity to produce 35 tons annually. China's Value Queen farm, with its 20 million sturgeon, has the potential to dominate the market. "Five years ago there were maybe two dozen farms," Bishop says. "Today it's more than tripled worldwide."
The expanding supply is lowering retail prices of farmed caviar. According to Bishop, a kilo averaged $6,000 five years ago; today it's $3,000. Despite the risk of a market shakeout, Sterling continues to expand. It's plowing $5 million into one of its Sacramento Valley farms to add 48 additional sturgeon tanks and has new farms set to open in Iceland and Spain. The company, with 30 employees, expects to triple output, to 30 tons, by 2022. It also has begun to sell online and exports to Japan and Germany. Bishop projects Sterling's sales will hit $15 million in the next three to five years.
Despite growing acceptance of farmed caviar, a question hangs over the industry: Would consumers revert to Caspian if the ban was lifted? Sterling's Bishop, for one, doesn't think that day will ever come: "We are never going back to wild caviar. People need to get over that fantasy."