Buzz Kill: U.S. Honeybees Aren't Coming Back This Year
By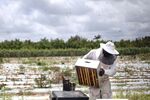 The mystery of why America's honeybees are dropping like flies isn't close to being solved. This past winter saw U.S. beekeepers lose another 23 percent of their colonies, according to an annual survey by the Bee Informed Partnership and the U.S. Department of Agriculture.
The fallout goes beyond honey and into America's almond business, which is already struggling with drought. More than half of the commercial bees in the U.S. are needed to pollinate almonds, the country's most lucrative nut. According to the Almond Board of California, more than 1 million colonies of honeybees are placed in the state at the beginning of the bloom period to pollinate the crop.
Bee losses are normal during the winter, but not to this degree. Before colony collapse disorder—the name given to the disappearing bees phenomenon—losses were running about 15 percent to 20 percent a year, says USDA spokeswoman Kim Kaplan, and before varroa mites (an Asian bee parasite first found in the U.S. in 1987), losses were running 10 percent to 12 percent. Almost two-thirds of the 7,200 surveyed beekeepers this year reported losses greater than the 18.9 percent level seen as economically sustainable.

The loss rate may be less than last year's, although researchers do not know why and do not consider this year's fluctuation as progress. Beekeepers have blamed viruses, parasites, pesticides, and nutrition problems due to the lack of diversity in pollen sources. There is a growing consensus among researchers that damage by varroa mites is one of the largest contributors, according to Thursday's report, which advised beekeepers to have an aggressive management plan in place.
Last year, Europe banned a class of pesticides called neonicotinoids that are suspected to contribute to the problem, and U.S. beekeepers are now asking the Environmental Protection Agency to do the same. Still, it's likely additional strategies will be needed to bring back America's bees.