Neymar's Religion Helps Ease Burden Amid Concern of Divisiveness
Tariq Panja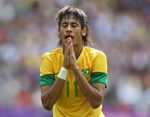 Pastor Newton Lobato Filho was delivering his Sunday sermon on a steamy night in Sao Vicente, Brazil, when he stopped suddenly and asked a skinny 14-year-old boy to stand up.
In front of about 600 faithful, he told the boy that God had spoken to him and revealed that the teenager would become one of the finest soccer players in the world. That's how the pastor's son, Newton Lobato Netto, recalls that moment eight years ago in the working-class town about an hour's drive from Sao Paulo.
The boy, who by then had been getting training for three years from the same club that taught Pele soccer, now carries Brazil's hopes of winning the World Cup. Neymar da Silva Santos Junior, known as Neymar, is the 22-year-old who'll lead Brazil's attack when sports' most-watched event kicks off in Sao Paulo on June 12.
Neymar's every move is discussed in Brazilian media and his face adorns billboards across the country. His supporters say his Pentecostal religion may help him bear the burden of leading his team to victory after his country spent $11 billion to host the tournament. Skeptics say religious cliques have created schisms in previous squads.
"I hope that Neymar scores a lot of goals," said the son, Lobato Netto, a 27-year-old preacher who is also a pastor at his father's Igreja Peniel. "You saw a guy coming to church 10 years ago, he was a really little boy, somebody this church has helped. To see this guy go there to be the man of the world would mean a lot for everybody. We prayed for him."
To Barcelona
Neymar left Brazil for Barcelona last year in a disputed transfer that ended with his family pocketing 40 million euros ($52 million at the time).
His church has grown, with its flock now often more than 1,000. Row after row of attendees young and old swayed and sang religious songs in a building that was enlarged after being rebuilt two years ago. While preachers invoked soccer-themed analogies to implore their audience to follow a religious path, light-brown envelopes were distributed among the faithful.
Written on envelope was the word "Dizimo," which church members say is related to a practice based in scripture known as a tithing, and call for 10 percent of income to be donated to the church. Lobato Netto said Neymar contributed to the church, though probably not 10 percent of his income. "If he did you'd see a different church," he said, speaking in front of a 10-foot high back-lit cross. "Many parts of this church still needs to be finished."
Neymar, who signed a five-year 44 million euro ($60.3 million) contract with Barcelona, declined to comment.
Making Donations
In 2010 his father and manager Neymar da Silva Santos, said: "When Neymar earned 800 reais, we gave 80 reais. Now, God has a way of testing you, right? So we started earning 400,000 reais. Jeez, are we going to give 40,000 reais? That's a car. Then again, you think, God has been loyal. So, you give the 40,000 reais. But then thwack: a ton of money. My God, I don't even want to think about how much -- just donate it."
Having a soccer star like Neymar rise from its ranks attracted youngsters to the church. "He influenced a lot of people," said Vinicius Bronzim, 18, before a service at the church in Sao Vicente, one of 70 in the Peniel Pentecostal ministry. "More churches started being built, and more people started coming to church."
Brazil was 65 percent Roman Catholic in 2010, down from 74 percent in 2000, according to Pew Research, which cited census data. Protestantism grew 22 percent from 15 percent in the same time period.
'100% Jesus'
Neymar, who like many soccer players in Brazil praises God in interviews, sported a headband bearing the words "100% Jesus" and raced around the field after his former team Santos secured the 2012 Sao Paulo state championship.
"He spoke about his religion from the beginning," said Antonio Lima dos Santos, 72, who played on Brazil's 1966 World Cup squad with Pele and coached Neymar at Santos. "I told him I don't have any issues with it. If it's doing you good keep doing it."
Brazil has regularly had a core of evangelical players, with former world player of the year Kaka, the most high profile recent example. After scoring goals, the AC Milan midfielder, would sometimes unveil a T-shirt displaying the message, "I belong to Jesus."
Many belong to a group called Atletas de Cristo, which was organized to help athletes handle the worldly temptations that come along with wealth, fame and youth in Brazil. Its president, former professional team-handball player Marcus Grava, recited a list of former players who are members of the religious movement, including six members of the 1994 World Cup team that ended Brazil's 24-year wait for a title. Defender Jorginho and winger Paulo Sergio, two former presidents of Atletas de Cristo are among them.
Brazil Roster
On Brazil's 23-man roster for this year's event are Atletas de Cristo members Hernanes and reserve goalkeeper Jefferson. They're joined by defender David Luiz and striker Fred, a recent convert with a reputation for enjoying nightlife. His conversion stunned Renato Gaucho, his coach at Rio de Janeiro-based Fluminense, and a devotee of Rio's clubs as well.
"Is he going to church now? Well that would make me a priest then because we are both up to the same shenanigans," Gaucho told reporters, unable to contain his laughter. "It kills me to hear he's an 'Atleto de Cristo' now.'"
Christian factions in the squad haven't always had a positive effect, said Juca Kfouri, a Brazilian soccer writer who's followed the national team for decades. Kfouri said some squads have been divided by religious factions, including the 2010 roster that was eliminated in the quarterfinals. That team was accompanied by a pastor, he said.
Discreet Religion
"The soccer field is not the church," Kfouri said. "Individuals must exercise their faith discreetly and not force it onto others. In the Brazil squad, this has led to closed groups and discrimination against those that don't share the same convictions."
Gilberto Silva, a member of the team that won Brazil's fifth and most recent World Cup in 2002, said players prayed together before and after games.
"Everyone made a circle and prayed," Silva said in an interview. "We prayed not because we want God to win but to give us strength to support the pressure and to do our jobs."
Brazil coach Luiz Felipe Scolari, who was in charge in 2002 in Korea and Japan, is in charge of the team again, and this time the pressure is higher than ever with the tournament taking place at home.
Neymar Centerpiece
He's built his team around Neymar, saying the forward has the "ultimate responsibility not only for creation, but counter-attacking and improvisation."
Neymar used to go to his church in Sao Vicente before key games when he played for Santos, said Lobato Netto. During the World Cup he'll be carrying the dreams of 200 million Brazilians.
"The whole country is putting pressure on this boy," Lobato Netto said. "If Brazil wins, he's the hero of the country, but if Brazil loses I believe he's going to be the enemy of the country,"
Before it's here, it's on the Bloomberg Terminal.
LEARN MORE