India's Top Candidate Went Full Tupac, Campaigned Via Hologram
By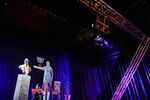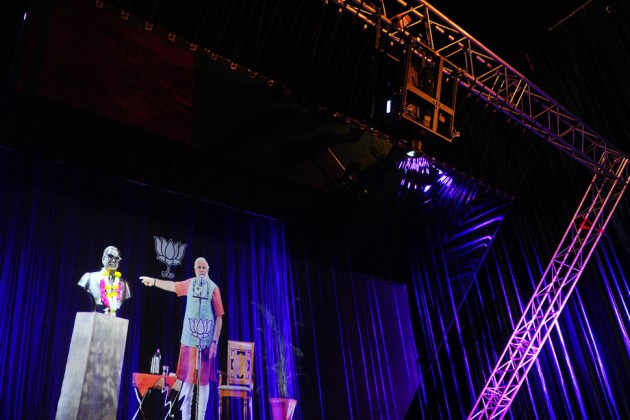 Behold, Narendra Modi did appear from the darkness and deliver his message to the masses. But though his likeness did appear on the stage, he was not really there.
Like Tupac at Coachella, Modi, who is almost certain to be the next prime minister of India, sent his hologram to rallies of supporters in 1,400-plus locations across the country this election season, according to a spokesman for his Bharatiya Janata Party. Indians filed in from towns and villages to look up as the lights blinked on and the candidate from the Hindu nationalist opposition suddenly appeared before them. In one notable address last month, Modi told the crowds that he thought God had "chosen" him for the task of bettering the country. It might be difficult for an audience member not in the know to tell the facsimile on the stage from the real man:
The show came via a deal with Musion Das Hologram in London. Musion is best known for enabling what the company calls the "digital resurrection" of deceased hip-hop legend Tupac Shakur for a performance at the 2012 Coachella music festival in California. (The video includes the sort of language Tupac endorsed in his lifetime.)
At the heart of the spectacle is an old carnival show trick known as "Pepper's Ghost," for a 19th-century routine popularized by a man named John Pepper. It consists of bouncing an image off a surface to create a floating 3D effect. Musion's take on that involves a 3D projector, which streams the images on to a thin foil screen that hangs at a 45-degree angle on stage.
Modi was filmed in a studio and then broadcast live via satellite to a series of stages that were trucked around India, either on platforms that could be assembled and broken down or in more modest, self-contained shipping units, according to Musion's website. A video of the shipping container variety, from Modi's state-level election campaign in 2012, can be seen here and gives a rich sense of the circus-comes-to-town effect of high-tech campaigning in the provinces.
A BJP spokesman, Prakash Javadekar, said in a telephone interview that the party was pleased with the project. His high-end estimate for audience numbers at all the Modi-via-satellite rallies combined added up to at least 14 million people. That's fewer than the television audiences for Modi's in-person rallies, Javadekar said, but the effect of Modi projected into towns across the nation came with its own potency. It was, he said, "just like the Hindu mythology where the God was omnipresent. So he is everywhere."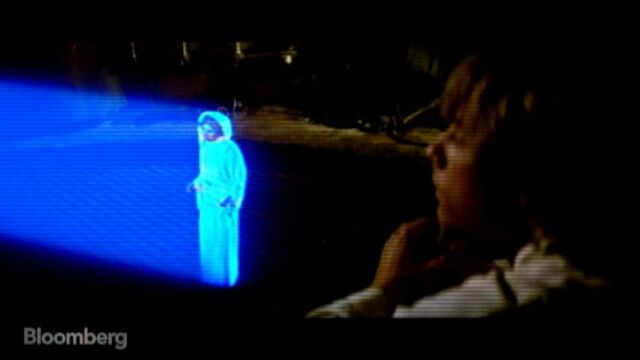 Before it's here, it's on the Bloomberg Terminal.
LEARN MORE