Europe Stocks Rise to Six-Year High; ThyssenKrupp Climbs
Namitha Jagadeesh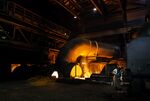 European stocks climbed to a six-year high amid better-than-estimated earnings from ThyssenKrupp AG to Airbus Group NV.
ThyssenKrupp rose 4.1 percent after Germany's biggest steelmaker also raised its full-year earnings forecast. Airbus advanced 6.2 percent. Pandora A/S jumped 8.1 percent after increasing its sales projection. Telecom Italia SpA declined 5.2 percent as quarterly revenue missed estimates.
The Stoxx Europe 600 Index gained 0.3 percent to 341.89 at the close of trading in London. The gauge has risen 7.7 percent from this year's low on Feb. 4 as mergers-and-acquisitions activity increased and European Central Bank President Mario Draghi said policy makers are ready to take action in June.
"Despite the good run we've seen in European stocks this year and the year before, I'm still positive they will go higher," said Herbert Perus, who helps oversee $36 billion as head of equities at Raiffeisen Capital Management in Vienna. "European companies are in very good shape. Companies with good results are going up, while those with bad numbers are going down. This is a good sign."
In Germany, the ZEW Center for European Economic Research's gauge of investor and analyst expectations fell to 33.1 this month from 43.2 in April, also missing projections.
The Stoxx 600 rose earlier today on speculation the Bundesbank is open to more stimulus. Germany's central bank is willing to back measures from the European Central Bank next month if staff forecasts show a lower 2016 inflation outlook, the Wall Street Journal reported, citing a person familiar with the matter.
European Equities
National benchmark indexes fell in 10 of the 18 western-European markets today. Germany's DAX rose 0.5 percent and France's CAC 40 added 0.3 percent. The U.K's FTSE 100 advanced 0.3 percent.
ThyssenKrupp gained 4.1 percent to 22.14 euros. The company said 2014 profit excluding one-time items will almost double from last year's 586 million euros ($804 million), up from a previous forecast of about 1 billion euros. The steelmaker also said first-quarter earnings rose to 269 million euros from a loss of 129 million euros a year earlier. ThyssenKrupp's last reported profit was for the third fiscal quarter of 2012.
Airbus Earnings
Airbus climbed 6.2 percent to 52.54 euros for its biggest advance in five months. The French planemaker reported that first-quarter earnings before interest, tax and one-time items fell to 700 million euros in the first quarter, beating the 659-million euro average estimate of analysts surveyed by Bloomberg. Sales rose 5 percent to 12.6 billion euros, also exceeding projections.
Pandora jumped 8.1 percent to 392.10 kroner, the highest price since its initial public offering in October 2010. The Danish jeweler said full-year sales will exceed 10.5 billion kroner ($1.93 billion), up from its previous forecast of 10 billion kroner. First-quarter revenue surged 30 percent to 2.59 billion kroner, beating analysts' predictions.
Taylor Wimpey Plc rallied 7.6 percent to 114.4 pence. The U.K.'s third-biggest homebuilder by market value increased its profitability expectations amid an improving housing market. The company said operating margins will be wider this year and projected an average margin of 20 percent from 2015 to 2017.
Telecom Italia
Telecom Italia slipped 5.2 percent to 87.7 euro cents after reporting that first-quarter sales fell 12 percent to 5.19 billion euros. That missed the average prediction of analysts calling for 5.23 billion euros. Net income dropped to 222 million euros from 364 million euros a year earlier, Italy's biggest phone company said.
EasyJet Plc lost 4.2 percent to 1,658 pence. Europe's second-biggest budget airline reported a pretax loss of 53 million pounds ($89 million) in the six months ended March 31. That compares with a March forecast for a loss of 55 million pounds to 65 million pounds and a 61-million pound loss in the year-earlier period. EasyJet also said second-half per-seat revenue will grow in low single-digit percentage. The stock climbed 13 percent from the beginning of this year through yesterday, after doubling in 2013.
Paddy Power Plc dropped 4.2 percent to 56.74 euros after CEO Patrick Kennedy said he will step down next year. Paddy Power's shares have more than quadrupled since he became CEO in January 2006. Ireland's biggest bookmaker said results were poor in January and March, with two of the worst weekends ever for making money on football bets.
(Corrects currency conversion for Pandora A/S in the 10th paragraph of story published on May 13.)
Before it's here, it's on the Bloomberg Terminal.
LEARN MORE