Etihad's New Three-Room Suite, for When First Class Just Doesn't Cut It
By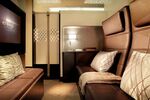 When your stated goal is as grand as becoming the world's best airline, you definitely want to go big in first class. To that end, Etihad Airways is installing a 125-square-foot, three-room suite it calls The Residence and sells as a premium cabin in its new Airbus A380 superjumbos.
The space, which costs about $43,000 for some flights, is priced to include two travelers and comes with a butler, chef, and shower. The Residence will take to the skies in late December when Etihad begins flying its first of 10 A380s from the United Arab Emirates to London.
The arms race among airlines to attract premium-cabin travelers—those for whom price is no obstacle—has led to a proliferation of luxuries at the front of long-haul airplanes, from gourmet cuisine to ever-larger double beds, cocktail bars, and spa-like showers, an industry first from Emirates six years ago.
The world's top-rated carriers, including Singapore, Emirates, British Airways, and Qantas Airways, have spent several years and bundles of cash working to establish their flights as luxury travel experiences. After mastering such amenities as the art and science of cooking fine food at 38,000 feet and increasing the thread counts of their bed linens, airlines are working to make the entire trip less of a hassle. That has led to more chauffeur services, from collecting passengers at home or an office to driving them from one flight to another, avoiding treks through massive hub airports.

The next step at the very high end, at least at Etihad, is to enlarge the amount of space—the kind of luxury Airbus once touted its flagship as uniquely suited to provide. In the A380′s earliest days as a mere design on a computer, wild-eyed airline marketers envisioned casinos, shopping malls, and bars as passenger diversions on long flights, talking down the finance executives who said, accurately, that such products would never fly because of the costs.
Etihad's effort to recreate a boutique hotel is the next level of exploiting the A380′s large space and in making the airplane an extension of the airport lounge and the luxury hotel that awaits many VIP travelers after they land. Breakfast in bed, served by your butler, is one way.

Before it's here, it's on the Bloomberg Terminal.
LEARN MORE