'Picking Quarrels and Provoking Troubles'—the Crime Sweeping China
by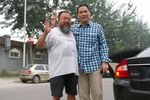 To read the recent news, one might think China is experiencing a mysterious bout of felonious squabbling. "Picking quarrels and provoking troubles," (in Chinese, xunxin zishi), is the charge now facing a host of political activists, lawyers, and worker rights advocates. And this crime can earn one up to five years in prison, or 10 years for multiple offenses, under article 293 of China's 1997 amended Criminal Law.
Lawyer Pu Zhiqiang, who previously represented artist activist Ai Weiwei, is the latest to be detained for the oddly named crime and is now being held under a form of criminal detention that can last 30 days before formal charges are filed. Pu was picked up by police on May 6 after joining a group of activists who met to discuss the June 4, 1989, massacre in Tiananmen Square, just weeks before its 25th anniversary.
In late April, Shenzhen labor activist Lin Dong was detained on the same charge, after he tried to advise workers striking at a Nike and Adidas supplier in Dongguan. That is also the alleged crime of Wang Quanping, who staged a protest by writing slogans on his car satirizing Chinese officials' resistance to public disclosure of their assets. He was detained by authorities in April. All are still being held and may later be tried.
The now popular offense seems to be defined nebulously enough to allow authorities to use it at will. And their favorite target of late: dissident types whom prosecutors may otherwise find tough to put away quickly.
Article 293 can be criticized as a "pocket crime"—meaning that because of its vague definition, "anything can be stuffed into it," San Francisco's Dui Hua Foundation, a human rights organization that focuses on detainees in Chinese prisons, wrote in its house publication in March 2011. That was shortly after the law was changed so that jail time could last twice as long, or 10 years, for convicted offenders.
One of the earlier activists locked up for "picking quarrels" was Zhao Lianhai, best known for speaking out on behalf of parents whose children were harmed by drinking melamine-tainted milk in 2008. He was given a two-and-a-half year sentence under Article 293 in November 2010.
The charge, along with several similar ones (articles 290 through 293 of the amended Criminal Law), are sometimes jointly referred to more generally as "disturbing social order." Both blind activist Chen Guangcheng, now living in exile in the U.S., and transparency advocate and New Citizens Movement organizer Xu Zhiyong, who is now serving a four-year jail term in Beijing, were charged under Article 291—Chen for "gathering a crowd to disturb traffic order" and Xu for "gathering a crowd to disrupt public order."
The social order charges were created to replace the earlier crime of "hooliganism," after it was retired as an offense in 1997. Hooliganism, which was once used to jail people for everything from dancing provocatively to being homosexual, "has traditionally also been a catch-all used to silence political dissent" and was used to put dozens in jail after June 4, 1989, wrote Dui Hua in December 2010.
Before it's here, it's on the Bloomberg Terminal.
LEARN MORE