JPMorgan Said to Be Betting Argentine Securities Will Gain
Camila Russo and Katia Porzecanski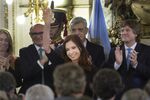 JPMorgan Chase & Co. plans to hold some of the $3.25 billion of Argentine bonds it bought from Repsol SA as a wager the securities will rally and hasn't hedged them, according to a person with direct knowledge of the bank's strategy.
JPMorgan paid $2.8 billion for the 10-year notes -- about 86.6 cents on the dollar -- with the intent to sell them at a profit in the secondary market, said the person, who asked not to be identified because he isn't authorized to speak publicly about the matter. The bank sold some of the notes today and will keep some of the securities longer term, the person said, without giving amounts. Veronica Espinosa, a spokeswoman at the New York-based bank, declined to comment on the deal.
"They've moved about half of the bonds to large emerging-market dedicated investors," Michael Roche, a strategist at Seaport Global Holdings LLC, said in a telephone interview, citing trades he's observed. "There's just a growing desire to gain exposure to Argentina."
Argentina gave the so-called Bonar bonds due 2024 to Spanish oil company Repsol in compensation for the takeover of 51 percent of YPF SA two years ago, in addition to bonds maturing in 2015, 2017 and 2033 for a total face value of $5.32 billion. Repsol sold the 2024 bonds to JPMorgan and agreed not to sell the remaining notes for seven days after the transaction closes, according to a May 9 regulatory filing.
Note Yield
JPMorgan sold some of the 2024 securities for about 86.75 cents on the dollar to at least two investment firms, according to two people familiar with the transactions. The 8.75 percent notes were trading at 88.35 cents on the dollar and yielding 10.7 percent at 4:52 p.m. New York time.
The country's dollar bonds have returned 46 percent over the last year on bets a more market-friendly government will replace President Cristina Fernandez de Kirchner when her term ends in 2015 and as she moves to improve relations with international community. On average, emerging markets have returned 0.6 percent over the period, according to JPMorgan's EMBIG indexes.
Argentine hasn't sold international bonds since it defaulted on $95 billion of debt in 2001. Securities trading today were issued in its 2005 and 2010 restructuring.
Before it's here, it's on the Bloomberg Terminal.
LEARN MORE