Aston Martin Focuses Car Spending on Hand-Made Technology
Chris Reiter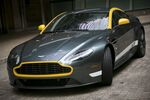 Aston Martin Lagonda Ltd. is overhauling the technology that will underly its hand-made vehicles for the next 15 years as the maker of sports cars featured in James Bond films defends its independence.
While lacking the resources of larger rivals, "a buck travels farther with us," Chief Financial Officer Hanno Kirner said yesterday at an event at Milbrook Proving Ground, about 50 miles north of London. "As of today, we are fully funded on our way to sustainable profitability."
The company's models, which are assembled by hand and therefore don't require costly production equipment, sold for an average 126,000 pounds ($213,000) last year, up from 70,000 pounds in 2007, Kirner said. Because of the lower overhead, Aston Martin can introduce cars as much as 40 percent less expensively than competitors, he said.
Aston Martin, a rare ultra-luxury car brand that doesn't belong to a larger manufacturing group, plans to spend 500 million pounds ($845 million) by 2017 to develop new models. While that's the biggest investment program in the Gaydon, England-based marque's 101-year history, it pales in comparison to the firepower at the disposal of rivals, which can spend more money in as little as three months.
Small manufacturers "will have the biggest problems to survive independently, because they can't afford innovations for the future," Thomas Weber, development chief at Aston Martin's investment partner Daimler AG, said in an interview on May 8. "Innovations require a lot of money and know-how."
Personal Touch
Keeping that cutting edge is a challenge for Aston Martin as it vies for buyers of elite cars with the likes of Volkswagen AG's Porsche and Bentley, Fiat SpA's Maserati and Tata Motors Ltd.'s Jaguar.
Aston Martin cars require as long as 200 hours to make by hand, with each vehicle bearing the name of the final technician who worked on the auto before it's cleared for delivery. Of the 70,000 cars built in the manufacturer's history, about 85 percent are still running. Models developed under the investment program would start coming out in 2016.
Bayerische Motoren Werke AG spent 993 million euros ($1.37 billion) on research and development in the first quarter alone, almost double Aston Martin's four-year investment plan. The world's biggest luxury-auto maker can spread those costs over annual sales of about 2 million vehicles. By comparison, Aston Martin sold just 4,200 cars last year, and deliveries are forecast to fall to 3,700 in 2014, IHS Automotive estimates.
Confronting Maserati
When Aston Martin's sales peaked at 6,700 vehicles in 2007, the brand was roughly the size of Fiat's Maserati. That brand is a focal point of Chief Executive Officer Sergio Marchionne's upscale push at the Italian carmaker. Maserati added the midsize Ghibli last year and will roll out the Levante sport-utility vehicle in 2015, followed by the Alfieri sports car.
"With increased competition from the likes of Maserati, Aston Martin cannot afford to stagnate," said Neil King, an automotive analyst at Euromonitor International Ltd. research company in London.
Backed by resources from Turin-based Fiat, Maserati sales are forecast to more than double this year to 28,900 vehicles, seven times the 2007 level, while the British nameplate is pegged to be down 45 percent over that period, according to consulting company IHS.
'Stretching' Technology
BMW's volume gives the Munich-based manufacturer leeway to take risks such as investing in its own carbon-fiber factory to make vehicles lighter. High-end performance models like the $111,500 M6 coupe compete with Aston Martin's lineup, which consists of two-door sports coupes and convertibles, including the $116,700 Vantage, and the four-door Rapide. Aston Martin canceled the Cygnet city car in 2013 after the derivative of the Toyota Motor Corp. iQ subcompact failed to meet sales goals.
"They've been stretching the technology they have as far as possible," said Al Bedwell, an analyst at LMC Automotive research company in Oxford, England. "They keep pushing variations of the same theme, but the theme has to move on. They risk being massively left behind."
The lack of resources led Aston Martin to team up with Stuttgart, Germany-based Daimler's Mercedes-Benz, which will be granted a holding of as much as 5 percent in the U.K. company as part of a cooperation agreement. The linkup includes Mercedes's AMG performance unit supplying V8 engines for new Aston Martin models. After Daimler mothballed the ultra-luxury Maybach brand in 2011, there's potential for the partnership to deepen.
First Step
"The brand is very fascinating" and cooperation with Aston Martin is "developing well," Daimler's Weber said. "We have taken a first step now. Time will tell how it's going to develop."
The carmaker plans to stick to its heritage of building refined sports cars like the DB9 and doesn't plan to rush after up-market competitors, including Maserati or Volkswagen's Bentley, in developing an SUV.
"We are quite happy with our core portfolio" including the four-door Rapide, said Kirner. "One messes with icons at one's peril."
While that strategy may limit Aston Martin's appeal to a small set of performance-oriented drivers, the company isn't concerned about a lack of demand.
"There's plenty of growth available," said Kirner. And if there's interest in an SUV down the road, then "the Daimler cooperation gives us options, but there's no decision" on building a crossover.
Before it's here, it's on the Bloomberg Terminal.
LEARN MORE