Russia's Severstal Said to Have Offers for U.S. Plants
Yuliya Fedorinova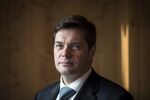 OAO Severstal, the Russian steelmaker controlled by billionaire Alexey Mordashov, received bids for its U.S. plants, according to two people with knowledge of the matter.
Russia's second-largest steelmaker is evaluating offers for its plants in Michigan and Mississippi, said the people, who asked not to be identified because the matter is private.
The interest in Severstal's American operations has emerged during the worst standoff between Russia and the U.S. and its European allies since the Cold War. U.S. Steel Corp. and Brazil's Cia. Siderurgica Nacional have bid for the assets and Severstal may receive as much as $1.5 billion for them, according to a May 9 report in the Wall Street Journal.
"We estimate the chances that Severstal will sell those assets at less than 50 percent," Kirill Chuyko, head of equity research at BCS Financial Group in Moscow, said by phone today. "It is unlikely that the U.S. assets will face any sanctions, even if held by the Russian company, so politics aren't that much involved in the situation."
Severstal would sell only if the price is "highly attractive," Chuyko said. Severstal started to get offers for the assets in early 2014, the people familiar with the situation said.
A Severstal spokeswoman declined to comment yesterday. Severstal dropped 1.5 percent to 277.5 rubles at 11:05 a.m. in Moscow trading. Its London-traded stock was 1 percent higher at $8.03 per Global Depositary Receipt.
Bank Rossiya
Mordashov, 48, is the 10th richest Russian, with an estimated fortune of $10.9 billion, according to the Bloomberg Billionaires Index.
As of April, his companies controlled a stake of about 5.9 percent in OAO Bank Rossiya, the St. Petersburg-based lender owned by associates of Russian President Vladimir Putin. The U.S. Treasury imposed sanctions on Bank Rossiya in March, prohibiting U.S. firms or individuals from doing business with Russia's 17th biggest lender.
Severstal bought the Dearborn, Michigan plant in 2004 as part of its $285.5 million takeover of Rouge Industries Inc. and has since invested about $1 billion. The Columbus, Mississippi operation was started in 2007 and Severstal invested more than $1 billion into the project.
The Russian steelmaker sold mills in Maryland, Ohio and West Virginia to Renco Group Inc. in 2011 after idling capacity as slowing demand depressed prices.
'Somewhat Surprising'
The company's international operations, which include a U.S. coal unit, generated $1 billion of its $3.3 billion of sales in the first three months of 2014. International assets accounted for 17 percent of Severstal's earnings before interest, taxes, depreciation and amortization in the period.
The reported interest in Severstal's U.S. assets is "somewhat surprising" as the company has no immediate liquidity needs, George Buzhenitsa, a Deutsche Bank AG analyst in Moscow, said in a report today.
The U.S. unit is "a self-sustaining business, while we consider the Columbus plant to be among the best assets in the U.S.," he said. On the other hand, "financial and operating synergies" between Severstal's businesses in Russia and North America have always been difficult to quantify, Buzhenitsa said. "Valuation will be the key factor to support our view on the possible deal, as well as the use of the proceeds."
Before it's here, it's on the Bloomberg Terminal.
LEARN MORE