Brazil Police to World Cup Visitors: Don't React When Robbed
Blake Schmidt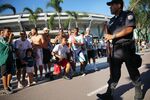 Brazilian police will distribute pamphlets to World Cup visitors advising them not to argue or scream when being robbed, according to the daily Estado de S.Paulo.
The campaign was designed by the head of the committee created by police in Brazil's biggest city to prepare for soccer's marquee event and is aimed at avoiding an increasingly common crime in Sao Paulo: robberies that end with homicide.
Police officer Mario Leite told the newspaper the tips are included in pamphlets that embassies and consulates from the U.S. to Europe will distribute to visitors boarding planes to the South American nation. To be published in English, Spanish and French, the brochures also advise against showing off certain possessions and walking alone at night, and recommend that tourists check to make sure they aren't being followed.
"Don't react, scream or argue" with robbers, the pamphlets will say, Leite told the daily. "Tourists coming from Europe or the U.S. don't come frequently and aren't used to seeing these types of crimes. Since they're not used to it, they will react to an assault. With the pamphlets, they know not to flaunt certain objects, to be careful at night and to only walk around if accompanied."
In preparation for the 600,000 foreign visitors expected for the World Cup in Brazil, to begin in Sao Paulo on June 12 and running through July 13, police have prepared to handle emergency calls in English and Spanish, the daily reported.
While the number of murders in Sao Paulo state fell last year, so-called latrocinios, or robberies that end in murders, rose 9 percent to a nine-year high of 385.
Before it's here, it's on the Bloomberg Terminal.
LEARN MORE