South Sudan Leaders Sign Accord to End 5-Month Conflict
William Davison and Mading Ngor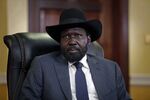 South Sudanese President Salva Kiir and rebel leader Riek Machar signed a peace accord that seeks to end more than five months of fighting, as they met for the first time since the clashes began.
The agreement signed in Ethiopia's capital late yesterday commits the sides to "cease all hostile activities within 24 hours," and create a "transitional government of national unity," former Ethiopian Foreign Minister Seyoum Mesfin, who helped mediate the deal, told reporters in Addis Ababa. Earlier peace talks had led to a truce in January that failed to halt the conflict.
In the agreement, the leaders recognize "that there is no military solution to crisis in South Sudan and that sustainable peace can be achieved only through inclusive political dialogue," Seyoum said. He said African monitors will verify the implementation of the truce within a week.
Fighting erupted in the oil-producing nation on Dec. 15 after Kiir accused his former deputy of plotting a coup, a charge Machar denies. The violence has left thousands of people dead and forced more than a million to flee their homes, according to the United Nations.
South Sudanese government and rebel forces may both have committed crimes against humanity such as murder and rape during the conflict, the UN mission in the country said this week. Civilians were targeted for violence based on their ethnicity, the organization said in a report.
'Without Fail'
Both leaders said at yesterday's ceremony they would honor the agreement.
"I want to assure you that I on my part, the party I am leading, the army that I am leading, will implement this agreement without any fail," Kiir said.
Machar said he was signaling his intention to end the conflict peacefully and he hoped "the other side will also be serious on this matter."
Humanitarian groups are seeking to provide aid to South Sudan to help avert a hunger crisis.
"The symbolism is important," Alexander Rondos, the European Union's Special Representative for the Horn of Africa, said at the signing. "Now we hope it translates into a reality for all citizens of South Sudan."
South Sudan's crude output has fallen by about a third to 160,000 barrels per day since the violence began, according to the Petroleum Ministry. Machar had vowed to seize oil fields in Upper Nile, the only state still pumping crude, to starve the military of revenue.
Interim Government
China National Petroleum Corp., India's Oil & Natural Gas Corp. and Petroliam Nasional Bhd., the main producers of South Sudan's oil, evacuated some employees from the country because of the violence.
The interim government's task will be to run the country during the transition, implement political reforms, "oversee a permanent constitutional process," and guide the country to elections, the grouping of East African nations mediating talks said in an emailed statement today. The two leaders will meet after one month to discuss progress, Seyoum said.
Before it's here, it's on the Bloomberg Terminal.
LEARN MORE