pursuits
Boom Times for Farmers in the United States of Kale
By
America's love affair with kale has been good for farmers, who produced nearly 60 percent more of the trendy green in 2012 than they did in 2007, according to new data from the Department of Agriculture.
In all, 2,500 farms reported harvesting kale in 2012, up from fewer than 1,000 in 2007. The kale capital is California, where 390 farms harvested 1,680 acres of kale in 2012, compared with fewer than 100 kale farms and 1,077 acres harvested in 2007. Georgia ranked second, and New Jersey was third, narrowly beating Texas.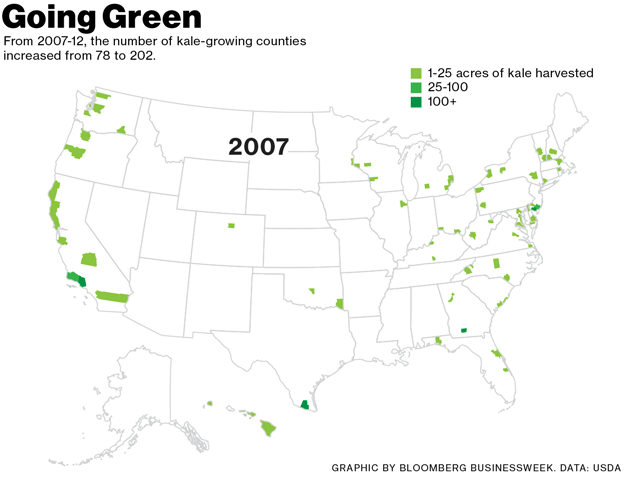 Wesley Kline, extension agent for Cumberland County, N.J., the fourth-largest kale-growing county in the country, said farmers have been growing kale for a long time, although it used to be mostly a garnish on dinner plates. "But since chefs and foodies have gotten into kale, it's really taken off," he said.
For all the kale mania, it's still no broccoli. The 6,256 acres of kale harvested in 2012 were but a drop in the 130,000-acre broccoli bucket. Kale doesn't even come close to beets, of which almost 13,000 acres were harvested.
The news wasn't as bright for all leafy greens. The number of harvested acres of escarole and endive—long past their 15 minutes of food fame—in 2012 was 2,030 acres, a 44 percent decline from 2007.
Before it's here, it's on the Bloomberg Terminal.
LEARN MORE