Ukraine Renews Dialogue Offer as Russia Holds Army Drills
Olga Tanas, Daria Marchak and Daryna Krasnolutska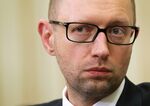 Ukraine's leaders said they're ready for a dialogue with peaceful representatives of the eastern regions, where pro-Russian separatists said they'll push ahead with a vote on autonomy after Russian President Vladimir Putin called for a delay.
Putin yesterday presided over nationwide army drills, a day after he softened his tone by promising to withdraw troops from the border, voicing support for Ukraine's presidential election, and saying it's not the right time for a referendum on secession in the Donetsk and Luhansk regions. Ukrainian premier Arseniy Yatsenyuk said he's concerned that Russia is "planning provocations" today, when the country holds army parades to celebrate victory in World War II.
The government in Kiev and its U.S. and European allies say there's no sign of a Russian pullback from the border. They accuse Putin of fomenting separatist unrest in eastern Ukraine and warn that he may follow the annexation of Crimea with another land grab against his neighbor. Pro-Russian groups have seized government buildings in parts of eastern Ukraine, and Yatsenyuk's government has sent its army to the region to reassert Kiev's control over it.
Yatsenyuk and interim President Oleksandr Turchynov said in a statement late yesterday that they want to hold "a national dialogue with those who don't have blood on their hands," and invited "representatives of all political forces of all the regions" to participate.
Referendum On
The Kiev government, which took over after pro-Russian President Viktor Yanukovych was toppled by protesters in February, opposes the referendums on secession. It has declined to engage in dialogue with those it holds responsible for separatist violence, while Putin says only talks that include the pro-Russian groups can succeed in easing tensions.
Aleksandr Maltsev, a spokesman for the separatists' "Donetsk People's Republic," said by phone yesterday that the autonomy referendum in the region will go ahead as planned on May 11. A similar decision was announced in Luhansk.
Sporadic violence continues across the region. In Luhansk, one person died yesterday in an exchange of fire at a checkpoint manned by gunmen, according to Ukraine's Interior Ministry.
There was also shooting in the southern city of Mariupol yesterday, with one person injured as troops surrounded a government building, according to the local Mariupolskie Novosti news service.
Ukraine Poll
A study by the Pew Research Center found that even in the east, where Russian is widely spoken, Ukrainians reject secession. Pew said 70 percent of respondents in eastern Ukraine, and 93 percent in the west, preferred the country to remain a unified state and keep its current borders. It interviewed 1,659 people between April 5 and April 23.
In Moscow, Putin watched the Russian army drills by video link from the Defense Ministry. He said they involved "all of the armed forces across Russia, including our nuclear deterrent." Today, he may attend a naval procession in Crimea, the region he seized from Ukraine in March.
Putin said efforts are under way to "de-escalate tensions in Ukraine, first of all by organizing a direct, equitable dialogue between the powers that be in Kiev and representatives of the southeastern regions." He was referring to a road map proposed by the Organization for Security and Cooperation in Europe.
Putin 'Shadow-Boxing'
Putin is "shadow-boxing," Shada Islam, a director at the Friends of Europe policy-advisory group in Brussels, said by phone. "The West is so desperate for any sign of a softening of Russia's hardline stance that some people will believe it. He's pulled this kind of thing before, and Europe must stay skeptical about words and wait for deeds -- for facts on the ground, like a verified troop pullback from the Ukrainian border."
Russian markets surged on May 7 after Putin's comments. Stocks extended the rally yesterday, with the Micex equity index adding 0.6 percent. The ruble pared gains, dropping 0.1 percent against the central bank's target dollar-euro basket. Ukraine's bonds also extended gains, with the yield on dollar notes due in April 2023 dropping 11 basis points to 10.08 percent.
North Atlantic Treaty Organization Secretary General Anders Fogh Rasmussen said there was no sign of the withdrawal Putin pledged. The alliance estimates that Russia has massed about 40,000 troops along the Ukrainian border.
"We haven't seen any indications that they're pulling back their troops," he told a news conference in Warsaw.
Sanctions Threatened
U.S. officials monitoring Ukraine remain convinced that while Putin is demonstrating his ability to ease tensions, at least rhetorically, his objectives haven't changed. Those include disrupting Ukraine's May 25 elections and encouraging breakaway movements in eastern and southern regions, according to two officials who spoke on the condition of anonymity because they're not authorized to talk to the news media.
The Russian leader's comments about postponing separatist ballots in eastern cities, one of the officials said, may have been intended partly to give Russia cover for the actions of its allies in Ukraine. While Putin is publicly calling for delaying such votes, the official said, intelligence shows that Russian officials continue to support and direct their allies' street demonstrations and political organizing.
Putin's talk of moderation, both officials said, also appears intended to divide EU nations, delay additional economic sanctions on Russia and stir tensions between the U.S. and its European allies that are eager to embrace diplomacy as the solution to the crisis in Ukraine.
Sanctions Readied
The U.S. and the European Union have imposed sanctions on Russian companies and individuals and threatened to tighten them if Putin doesn't end his support for the separatists.
The EU is preparing to expand its sanctions to some Russian companies blamed for the expropriation of business in Crimea, with a list of targets that may be approved by the bloc's foreign ministers as soon as May 12, according to two officials from EU countries, who spoke in Washington on condition that they not be identified because of the sensitivity of the issue. The officials didn't identify the Russian companies.
Russia has used its control of energy resources to apply pressure. Ukraine's Energy Minister Yuri Prodan said yesterday that the country is refusing to pre-pay for natural gas supplied by OAO Gazprom, after it almost doubled the price. He said Ukraine is also disputing Gazprom's claim that it owes $3.5 billion.
Before it's here, it's on the Bloomberg Terminal.
LEARN MORE