To Kill Office E-Mail, Slack Needs to Learn How Non-Geeks Work
New Work startups want to revolutionize office communication. Not so fast, guys
by
E-mail is dead—or at least that's what Silicon Valley is banking on. At the end of April, the startup Slack announced it had raised $43 million in funding and said it was valued at about $220 million. Slack has built a type of anti-e-mail messaging system meant to let workers collaborate in a more fluid way. Venture capital firms who joined the gaudy funding round included Social+Capital Partnership, Accel Partners, and Andreessen Horowitz. (Bloomberg LP, which owns Bloomberg Businessweek, is an investor in Andreessen Horowitz.) They clearly think the company is up to something big.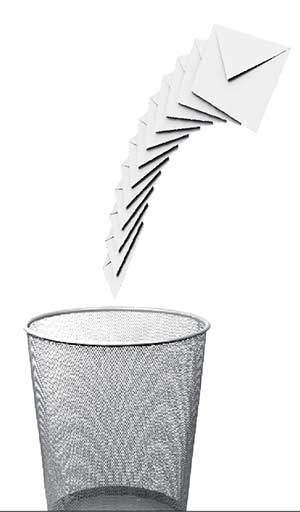 Slack is the latest in a string of startups emerging as part of the tech industry's assault on e-mail, a front in what might be called the New Work movement. A commonality of these companies, which include Asana, Yammer, and Convo, among others, is that their main architects come from the consumer Web world. For example, Asana, another e-mail substitute service, was started by Facebook co-founder Dustin Moskovitz. And Slack was started by Stewart Butterfield, who years ago turned a failed video game project into Flickr, the photo-sharing site Yahoo! acquired.
The Slack software borrows from social sites such as Twitter and Facebook to turn the middle of your screen into a stream of messages. Employees can chat about their projects and share documents in the open instead of e-mailing back and forth. The idea is to keep more people in the loop about what's going on, moving past the call-response formality of e-mail to something more flexible and engaging. Users can create a private space for chatting with a few co-workers; they can also search quickly through chat sessions and attachments to find valuable information.
Because this is self-aggrandizing Silicon Valley, simply offering a helpful service is not enough: Developers such as Moskovitz and Butterfield want to change the world. Slack's home page plasters the tag line "Be Less Busy" above an image of someone leaning back in a chair reading a magazine. It's like the office equivalent of a fad diet—sign up for our service, and get rid of work … instantly! Asana trumpets the same type of messaging. It promises to "put conversations & tasks together, so you can get more done with less effort." A lot of hubbub for what could also be described as a glorified to-do list.
But the real issue with these services is that they suffer from a distinct Silicon Valley bias. (On Slack's "Wall of Love," almost all the compliments about the service come from coders at other technology startups: "I am basically in love with Slack," writes Tony Conrad, founder of About.me. "It is amazing.") The programs are created by engineers who've never worked at a traditional company and who fetishize task management and the step-by-step processes used to build software applications.
For regular people in regular corporate jobs, Slack isn't going to fly. First, it's hard to get everyone on a team to buy into working out in the open. And once even one or two people fall away, the service becomes pointless. Instead of timesaving, Slack just seems annoying. The sample screen shots on its site read as inane, daylong, reply-all e-mail chains that you can't opt out of: David says the meeting will be starting in 10 minutes. Kevin says awesome. Jessica makes a bad joke. Part of what people like about e-mail is having control over their communication and a venue for quiet conversations. Office work often involves politics and personalities, and conducting every interaction in public is a recipe for workplace chaos.
If Silicon Valley wants to build tools for itself, that's fine. But as venture capitalists start pouring money into the New Work movement, the underlying expectation is that one of these companies will produce something as broadly applicable as Word or e-mail. There's little evidence of such a complete service arriving just yet. In the interim, you can explain to your boss that you've signed up for this Slack thing and will be less busy from now on.
Before it's here, it's on the Bloomberg Terminal.
LEARN MORE