South Korean Ferry Operator CEO Is Arrested Over Sinking
Cynthia Kim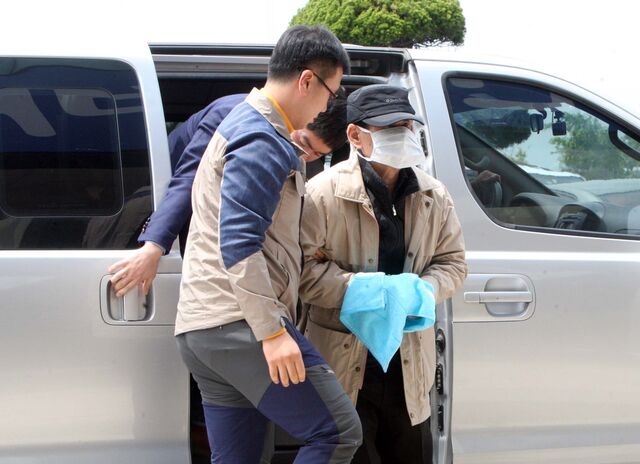 South Korean prosecutors investigating the sinking of the Sewol ferry last month arrested the chief executive officer of the vessel's owner Chonghaejin Marine Co.
Chonghaejin CEO Kim Han Shik faces charges including homicide through occupational negligence, prosecutor Yang Joong Jin said by phone today from Mokpo, where the investigation into the deadly ferry sinking is based. Kim was arrested today and is being taken to Mokpo, Yang said.
Kim is responsible for cargo management as well as all issues related to the stability of the vessel, Yang said, declining to confirm reports that the Sewol was carrying too much cargo with too little ballast water when it began listing before sinking on April 16.
"We're still investigating allegations that the Sewol didn't have enough ballast water," Yang said.
All 15 of the Sewol's core crew members have been arrested. Captain Lee Joon Seok, 68, who wasn't on the bridge at the time of the incident, the third mate named Park, who was steering the vessel, and a helmsman Cho, who was with Park, face life sentences on charges including homicide through abandonment and homicide through occupational negligence, prosecutors have said.
The investigation includes Chonghaejin Marine, its executives and the money flow between its affiliates, the Korea Shipping Association that oversees ferry operators, as well as the coast guard. The company is owned by a family led by Yoo Byung Eun, and he is also under investigation along with his two sons, prosecutors have said.
From the beginning, investigators have focused on whether the ferry turned too quickly or abnormally, causing it to list, and whether other factors including its cargo volume or expansion work done to increase its capacity contributed to the sinking by making the vessel unstable.
Expansion Work
The 20-year-old Japan-made ferry had a fifth-deck added to boost capacity to 956 passengers and crew, 116 more than when Chonghaejin Marine bought it from Japanese ferry operator A-Line in October 2012.
Chonghaejin Marine had put the Sewol and another ferry, the Ohamana, up for sale in March, prosecutor Yang said today.
The coast guard yesterday revised the number of survivors from the Sewol, which sank off the southwest corner of the Korean peninsula on April 16, to 172 from 174, citing an administrative error caused by double counting. Thirty-five people are missing and 269 confirmed dead among the 476 who were on board the ferry, coast guard official Kim Suk Kyoon said in a televised briefing yesterday.
It's Korea's worst maritime disaster since the 'Namyoung' ferry sank in 1970, killing 323.
Divers searching the ferry were delayed this morning due to bad weather, coast guard official Ko Myung Suk said in a televised briefing today.
Before it's here, it's on the Bloomberg Terminal.
LEARN MORE