Pizza Hut Shows Up Late to the BBQ Sauce Game
By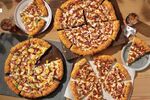 With help from Blake Shelton, Pizza Hut hopes it has the marketing power to sell a lot of barbecue pizza. The country's largest pizza chain will launch three new varieties on May 12, with barbecue sauce replacing the customary tomato: Blake's Smokehouse BBQ, Hawaiian BBQ, and Honey BBQ Chicken. The sauce is sweet, and there's cheddar on the crust.
Pizza Hut is billing this as a huge launch, the largest since Three Cheese Stuffed Crust pizza, which was last year's biggest product rollout. Country singer Shelton will star in the advertising campaign for the new items, which will start on May 18. Pizza Hut has tested the pizza in such BBQ-loving heartland markets as Dallas, as well as overseas in the U.K. and Australia, but has never offered it nationally in the U.S.
With barbecue-flavored pizza already on the menus at Domino's, Papa John's, and California Pizza Kitchen—BBQ is the second-most-popular pizza sauce after tomato—the question is why it has taken Pizza Hut so long. "BBQ chicken pizza has been a specialty pizza item for many years in the gourmet and independent pizza market," said Technomic's Darren Tristano in an e-mail.
In Pizza Hut's view, BBQ pizza has exploded only since 2010. "We think we landed on a concept that takes something with a strong following to another level," Pizza Hut spokesman Doug Terfehr wrote in an e-mail. The cheddar crust will help "broaden what people have come to expect from a BBQ pizza."
The more particular risk with this launch is that BBQ happens to be a condiment that people are very touchy about, what with all the historic Carolina-Kansas City-Memphis-Texas sauce rivalries. Terfehr said the chain's sauce most closely resembles Memphis-style because it's sweet, but said diplomacy requires that he note "a hint of Texas and Kansas City due to the finishing flavor."
Before it's here, it's on the Bloomberg Terminal.
LEARN MORE