Jobless Claims in U.S. Dropped More Than Forecast Last Week
Lorraine Woellert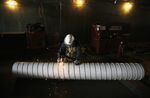 Fewer Americans than forecast filed applications for unemployment benefits last week, a sign the labor market continues to gain traction.
Jobless claims fell 26,000 to 319,000 in the week ended May 3 from a revised 345,000 in the prior period, the Labor Department reported today in Washington. The median forecast of 52 economists surveyed by Bloomberg called for a decrease to 325,000.
Fewer layoffs set the stage for bigger gains in employment and wages. While payrolls rebounded in April after a weather-induced soft patch earlier in the year, many companies are proceeding with caution while they wait for a sustained pickup in consumer spending, which accounts for about 70 percent of the economy.
"Claims are drifting lower on a longer-trend basis," said Jacob Oubina, a senior U.S. economist at RBC Capital Markets LLC in New York, whose forecast for 320,000 filings was among the closest in the Bloomberg survey. "I think hiring will creep slightly higher."
Stock-index futures held earlier losses after the report. The contract on the Standard & Poor's 500 Index maturing in June fell 0.3 percent to 1,869 at 8:46 a.m. in New York as technology stocks declined for a third day and investors weighed corporate earnings.
There were no states estimated last week and there was nothing unusual in the data, a Labor Department spokesman said as the figures were released to the press.
Survey Results
Economists' estimates in the Bloomberg survey ranged from 310,000 to 343,000. The prior week's claims were originally reported at 344,000.
The four-week average of claims, a less-volatile measure than the weekly figure, climbed to 324,750 from 320,250 the week before.
The claims data have see-sawed since early April as the government had trouble adjusting the figures for the Easter holiday and spring recess at schools that occur at different times from year to year. Most of that fluctuation is now probably over, the Labor Department spokesman said.
The number of people continuing to collect benefits dropped by 76,000 to 2.69 million in the week ended April 26.
The unemployment rate among people eligible for benefits fell to 2 percent in the week ended April 26 from 2.1 percent the prior week, today's report showed.
Cutting Staff
Some companies continue to shed staff. To boost efficiency, Caterpillar said it will cut 380 full-time and 130 temporary jobs at a marine-engine plant in Fountain Inn, South Carolina. The company, based in Peoria, Illinois, also will close a machinery factory in Pearisburg, Virginia, affecting 50 employees.
Payrolls at financial services firms, too, are shrinking as companies cope with a soft housing market and low interest rates. Boston-based State Street Corp. this year will eliminate 400 positions, bringing total layoffs to 3,300 since November 2010.
"We're still in a constrained environment and we're looking at expenses everywhere," Chief Executive Officer Joseph Hooley said in an April interview.
Employers added 288,000 jobs last month, the biggest increase in payrolls since January 2012, the Labor Department reported last week. That wasn't enough to draw people into the labor force, however, and the share of the working-age population employed or seeking a job fell to 62.8 percent, matching the lowest since March 1978.
Too many people are settling for part-time work, Federal Reserve Chair Janet Yellen told the congressional Joint Economic Committee.
"While conditions in the labor market have improved appreciably, they are still far from satisfactory," Yellen said yesterday. "Most measures of labor compensation have been rising slowly -- another signal that a substantial amount of slack remains in the labor market."
Before it's here, it's on the Bloomberg Terminal.
LEARN MORE