business
How China's Government Set Up Alibaba's Success
By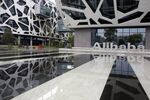 China isn't big enough for Alibaba. The e-commerce company has ambitions to expand far beyond China, and by filing yesterday for its initial public offering in the U.S., Alibaba has moved closer to that goal. It could raise as much as $20 billion, making it the biggest-ever U.S. IPO.
As Co-founder and Chairman Jack Ma expands his business around the world, he'll have a group of influential fans in Beijing. Chinese government officials are eager for a local company to break into the ranks of tech's global elite, and the huge payoff for Alibaba will highlight just how valuable official Chinese support can be. Alibaba's rise has been propelled by government policies that have made China a very inhospitable place for U.S. companies—and provided local champions such as Alibaba with the space they need to become viable players globally.
Social networking: Alibaba was relatively slow to move into social networks, but the company has been playing catchup. Last year it became a major shareholder in Sina Weibo, a microblogging service that would compete with Twitter and Facebook—if those companies were allowed to operate in China. They aren't. The Chinese government has banned them. As a result, Alibaba had an unimpeded entry into the world's largest Internet market, even though it was a relative latecomer, and it will continue to grow without challenge from American competition.
Online video: Just as Chinese can't check their Facebook pages or send tweets, they can't access video clips on YouTube. The Chinese government has banned Google's online video service for years. And of late, Ma has shown a lot more interest in video. He owns 5.5 percent of Huayi Brothers Media, a film and TV production company in Beijing, and on April 29, Alibaba and Yunfeng Capital, a private-equity firm co-founded by Ma, agreed to pay $1.22 billion for a stake in Beijing-based Internet television company Youku Tudou. As with social networking, the Chinese government has kept the world's biggest competitor out of Alibaba's way.
E-commerce. There's nothing to prevent U.S. companies from trying to take on Chinese e-commerce companies, including Alibaba's Taobao and Tmall. Taobao first gained prominence as the scrappy challenger that foiled EBay's ambitions in China. While EBay couldn't match Alibaba, others are still trying, most notably Amazon and Wal-Mart. Amazon in 2004 bought Joyo.com, the online retailer co-founded by Lei Jun, an entrepreneur who went on to start smartphone sensation Xiaomi. Walmart in 2012 took control of Yihaodian ("No. 1 Store"), an online retailer.
While the Chinese government doesn't ban U.S. companies from operating in China, it doesn't make their lives easy. Regulators seem eager to target foreigners for alleged misdeeds. Walmart is a particularly juicy target; the government has penalized the retailer for offenses such as mislabeling fox meat as donkey meat. (Donkey meat? "Better than veal," food enthusiast Andrew Zimmern told NPR.)
Amazon hasn't faced comparable scrutiny in China, but that could just be a sign of how little success the company has had in the country. A decade after it acquired Joyo, since rebranded Amazon.cn, the company has only a 6 percent market share, Bloomberg Industries analysts Praveen Menon and Paul Sweeney wrote in a report published on April 25. Amazon isn't giving up—Chief Financial Officer Tom Szkutak has said the company is increasing its investments there—but pursuing market share in China and additional markets outside the U.S. contributed to a record $60 million loss for Amazon International in the first quarter.
Still, Jeff Bezos should be grateful. At least Amazon has the chance to compete against Alibaba in the world's largest country. Other U.S. companies aren't so fortunate, to Alibaba's great benefit.
Before it's here, it's on the Bloomberg Terminal.
LEARN MORE