Yahoo Traders More Bullish Than Ever Before Alibaba IPO
Joseph Ciolli and Eric Lam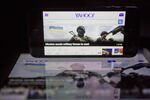 With Yahoo! Inc. set to reap a multibillion-dollar windfall from Alibaba Group Holding Inc. going public, options traders have never been more bullish.
Calls giving owners the right to buy Yahoo's shares are near the most expensive level ever relative to puts, according to data on six-month options compiled by Bloomberg. Among the eight contracts with the highest ownership, seven are calls.
Investors are betting that Yahoo shares will rebound from the selloff that swept technology stocks this year after it receives as much as $10 billion after taxes from the Alibaba initial public offering. Agreements between the two companies will force Yahoo to divest part of its approximate 24 percent stake at the Chinese company's upcoming share sale.
"The market expects Alibaba Group to go public at a very large IPO price, which would be a very concrete catalyst for Yahoo shares," Brett Harriss, an analyst at Gabelli & Co., said yesterday in a phone interview from Rye, New York. "The bull case is all about Alibaba."
Yahoo shares are having their worst start to a year since 2006 as investors turn away from Internet companies and the biggest winners of the bull market. The stock is down 8.6 percent in 2014 after doubling in 2013. The Nasdaq 100 Index is little changed this year.
Options Trading
The company is set to sell about 40 percent of its Alibaba stake. Yahoo can hang onto the rest indefinitely if it chooses, which may benefit the shares after the IPO, Ben Schachter, an analyst at Macquarie Securities USA Inc., wrote in an April 16 client note.
Calls betting on a 10 percent gain in Yahoo shares cost 0.33 point more than puts betting on a 10 percent drop, according to six-month data compiled by Bloomberg, after the gap reached a record 0.84 point April 29. In the past two years, the calls have been 1.59 points cheaper than puts on average.
Daily trading of bullish options has exceeded bearish ones by an average of almost 70,000 contracts in the past 20 days, compared with 26,000 a year ago, according to data compiled by Bloomberg.
Sarah Meron, spokeswoman for Sunnyvale, California-based Yahoo, declined to comment on the company's options.
January Calls
"There's a lot of interest in the January calls," Fred Ruffy, a Chicago-based senior options strategist at Trade Alert LLC, said yesterday by phone. "It tells me investors aren't necessarily playing this one event but are maybe looking for the stock to outperform throughout the rest of the year. I'd say the sentiment is leaning on the bullish side."
Calls with strike prices at $40, $35 and $50 that expire in January have the highest ownership, data compiled by Bloomberg show. Yahoo shares rose 0.1 percent to $36.91 yesterday.
The Chicago Board Options Exchange Volatility Index, which measures the cost of Standard & Poor's 500 Index options, increased 2.9 percent to 13.29 yesterday after five straight days of losses. The VIX added 1.2 percent to 13.46 at 10:25 a.m. in New York. The S&P 500 declined 0.3 percent to 1,879.39.
Once Yahoo gets the proceeds from the Alibaba IPO, it faces the challenge of putting the money to use. Last year, Yahoo lost its No. 2 position in U.S. digital ad sales to Facebook Inc. for the first time, according to EMarketer. The research firm projected that Yahoo's display ad business will grow 2 percent this year, compared with 24 percent for the U.S. digital ad market.
Cash Allocation
Yahoo may need to spend more to compete with Web companies that are broadening their business after Facebook's $19 billion purchase of WhatsApp Inc. The company has announced more than three dozen acquisitions under Chief Executive Officer Marissa Mayer, ranging from news aggregators to makers of image-recognition software and mobile games.
"The fear in a lot of investors' minds is that Marissa Mayer will make an acquisition that doesn't bring in revenue," Sameet Sinha, an analyst at B. Riley & Co. in San Francisco, said yesterday in a phone interview. "There's definitely a cash allocation risk."
The infusion of cash from the Alibaba IPO may support further deals and share buybacks, according to Youssef Squali, global head of Internet and media research at Cantor Fitzgerald LP. Yahoo had $4.6 billion in cash and equivalents at the end of the first quarter.
Yahoo's core business trades at eight times forecast fiscal-year 2015 earnings before interest, taxes, depreciation and amortization, compared to a multiple of about 13 for its peers, Brian Pitz, an equity analyst at Jefferies LLC, wrote in an April 16 report. The bank has a buy rating on the stock.
"The core Yahoo, unrelated to Alibaba, management has been talking about resumption of organic growth and how 2014 will be a growth year," Squali said yesterday in a phone interview from New York. "This is a stock with relatively low downside."
Before it's here, it's on the Bloomberg Terminal.
LEARN MORE