Will Target Turn to an Outsider in Search for Next CEO?
by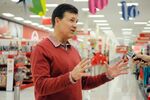 When Gregg Steinhafel agreed to step down immediately as the chief executive of Target, there was no one in line to replace him. He had been running the company since 2008 and working at the retailer for three decades before that. Yet he didn't have an internal successor, and the board hadn't looked for anyone from outside the company. Target's chief financial officer, John Mulligan, has taken over for the time being, another long-tenured executive who has been at the company since 1996.
Target has a pretty insular culture—it's based in Minneapolis—and companies in general don't like to bring in outsiders to become chief executive. But with so many problems—the security breach, a disastrous and expensive expansion into Canada, slowing sales in the U.S.—Target may have to break with tradition. Here are a few outsiders who might be a good fit for the job, in no particular order:

1. Glenn Murphy, the chief executive of Gap. He's got operational expertise. He's Canadian. Gap's online efforts are impressive. Murphy also got some positive attention when he raised hourly wages at his stores to $10 and said Gap wants to "do more than sell clothes."

2. Mindy Grossman, the head of HSN. She has overseen a complete turnaround of the Home Shopping Network, and she gets mobile shopping, too. Grossman used to work at Polo Ralph Lauren and Nike. She's personable, visible, and connected to the fashion world.

3. Brendan Hoffman, chief executive of Bon-Ton Stores. He's been at the 270-store chain since 2012, and before that he ran Lord & Taylor. At Bon-Ton, he has focused on online sales, younger shoppers, and better inventory management and merchandising. Hoffman's name still comes up in discussions about who might run J.C. Penney, and in March he announced plans to step down from Bon-Ton next year. Only problem: He blamed his departure on the commute from New York, where his family lives, to Milwaukee, where Bon-Ton is located.
There are others, too, who don't get as much attention but who could probably do a good job: Sharen Turney, the head of Victoria's Secret; Carol Meyrowitz, who's in charge of T.J.Maxx and Marshall's; and Marvin Ellison, a former Target executive now at Home Depot. Or maybe Target will poach someone from every retailer's biggest competition: Amazon.com.
Before it's here, it's on the Bloomberg Terminal.
LEARN MORE