OECD Cuts Global Growth Forecast as Emerging Markets Cool
Mark Deen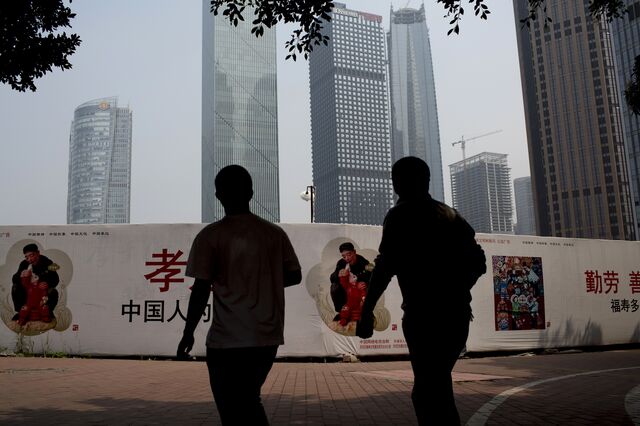 The Organization for Economic Cooperation and Development cut its global growth forecast as expansions in China and other emerging markets slow.
The world economy will expand 3.4 percent this year instead of the 3.6 percent predicted in November, the Paris-based organization said in a semi-annual report today. China will grow 7.4 percent, down from a previous projection of 8.2 percent.
"Part of this deceleration is benign, reflecting cyclical slowdowns from overheated starting positions," said OECD Chief Economist Rintaro Tamaki. "However, managing the credit slowdown and the risks that built up during the period of easy global monetary conditions could be a major challenge."
The OECD's second reduction in global growth forecasts in six months underlines the challenges facing policy makers even as developed countries recover from the financial crisis. The group also said events in Ukraine have heightened geopolitical uncertainty, a factor also referenced by the International Monetary Fund in its global outlook in April.
Highlighting the contrast between the euro area and U.S. economies, the OECD said the European Central Bank needs to cut interest rates again, while the Federal Reserve should prepare to halt bond purchases this year. On fiscal programs, it said both the U.S. and Europe have the margin to slow the pace of deficit cutting.
In the euro area, "a further interest rate reduction is merited, given the low inflation developments," it said. "In the U.S., where the recovery is more firmly based, asset purchases should be ended in 2014 and policy rates should start to be raised during 2015."
Euro-Area Forecasts
Gross domestic product in the euro area will rise 1.2 percent this year and 1.7 percent next, the OECD estimated. That's up from 1 percent and 1.6 percent predicted in November.
Reports today showed service industries in Spain and Ireland showed the fastest growth since before the financial crisis while Italy's also picked up. A gauge of services for the entire euro area rose to 53.1 last month from 52.2 in March. That's the highest since June 2011.
The ECB's Governing Council holds its monthly meeting on May 8. Its benchmark interest rate is already at a record-low 0.25 percent and the OECD said policy makers should be ready to use additional unconventional stimulus.
The U.S., the world's largest economy, will expand 2.6 percent this year and 3.5 percent in 2015, the OECD predicted. In November, it forecast growth of 2.9 percent and 3.4 percent.
The U.S. economy "is projected to pick up in 2014 once the effects of severe winter weather dissipate," the OECD said. "Given ample cash flow and an improved demand outlook, business investment should accelerate significantly."
China Cooling
Chinese GDP will probably rise 7.4 percent this year and 7.3 percent in 2015, the OECD said, cutting its forecast from 8.2 percent and 7.5 percent respectively. Expansion has cooled "as investment slowed due to efforts to rein in lending," the OECD said. It added the People's Bank of China should be ready to ease monetary policy should the economy "slow sharply."
The Japanese economy will expand 1.2 percent both this year and next, the OECD predicted. Japan was singled out among developed economies as a country that needs to make "very large" deficit reduction plans. "With gross public debt surpassing 230 percent of GDP, a detailed and credible fiscal consolidation plan" remains a "top priority," it said.
Before it's here, it's on the Bloomberg Terminal.
LEARN MORE