Fiat Drops on Investor Skepticism Over 2018 Growth Plans
Tommaso Ebhardt and Mark Clothier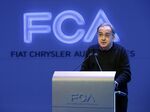 Fiat SpA Chief Executive Officer Sergio Marchionne has an ambitious five-year plan to more than double profit and increase annual deliveries 61 percent. Investors aren't buying it.
Fiat shares fell 12 percent, the most in more than 2 1/2 years, on skepticism that the CEO will be able to meet the 2018 targets he laid out during an investor presentation yesterday.
The automaker's weaker-than-estimated first-quarter results also cast doubt over the 55 billion-euro ($77 billion) plan to expand Alfa Romeo, Maserati and Jeep into nameplates that can attract customers from Beijing to Berlin to Boston. In doing so, Marchionne is seeking to forge an automaker that's big enough to challenge General Motors Co. and Volkswagen AG.
"If you start your 2014-2018 plan with an extremely weak quarter, nobody will give you the credit that you will achieve your targets," said Jens Schattner, a Frankfurt-based automotive analyst at Macquarie Group Ltd. "If it was so easy just to launch new products to be successful in this industry, why wouldn't everybody do exactly the same."
First-quarter trading profit, or earnings before interest, taxes and one-time items, fell 1.4 percent to 622 million euros, missing the 854 million-euro average of five analyst estimates compiled by Bloomberg. North American operations posted a loss due to buying the rest of Chrysler Group LLC.
Shares Fall
The shares dropped 99 cents, shedding 1.24 billion euros in market value in the biggest decline since Aug. 18, 2011, to 7.48 euros in Milan trading. That pared the stock's gain this year to 26 percent, valuing the company at 9.36 billion euros.
Fiat reported a net loss of 335 million euros, wider than the year-ago deficit of 83 million euros, underscoring the need for a turnaround.
With the new five-year strategy "we bring all the various pieces of the mosaic together," Marchionne said yesterday in a presentation in Auburn Hills, Michigan. "It's a courageous plan that in several respects represents a major break with the tradition of the past."
The Alfa Romeo effort is the most aggressive, with plans to invest 5 billion euros through 2018 to bring out eight new vehicles and increase deliveries more than fivefold. The marque has the potential to help drive profit for the group, in the same way that Audi does for VW, by commanding higher prices than mass-market models with the Chrysler, Dodge or Fiat badges.
Big Questions
Alfa Romeo, which will develop new rear-wheel-drive and four-wheel-drive vehicles, aims to boost sales to 400,000 in 2018 from 74,000 last year. The brand will begin rolling out the new vehicles at the end of 2015, when a new mid-size car comes to market, and will ditch the current Mito compact as part of the overhaul.
Maserati is tasked with increasing annual deliveries more than fourfold by 2018 to 75,000. The exotic luxury brand will invest more than 2 billion euros to expand its model offerings to six, including adding the Alfieri sports car, shown this past March in Geneva. Chrysler and Jeep brands are each forecast to more than double deliveries.
"The aspiration is big but the questions are bigger," said Erik Gordon, a professor at the Stephen M. Ross School of Business at the University of Michigan. "Can Fiat do enough to turn Alfa into a big, profitable brand? Are there enough Maserati buyers to make Fiat a global player?"
Rising Debt
Fiat will also need to come up with the money for the investments even with borrowings already on the rise. Net industrial debt climbed to 10 billion euros at the end of March from 7 billion euros three months earlier. The carmaker said yesterday that it's keeping open its financing options, while ruling out a capital increase before 2018.
"The problem is PowerPoint presentations are a lot easier than real life," said Harald Hendrikse, a London-based analyst with Nomura Holdings Inc. "These brands need a huge amount of work to get where they need to be. The world changes very slowly and you have brands at the bottom of the pile in many regions. It's not going to happen overnight."
The North American operations in the first quarter recorded an Ebit loss of 117 million euros compared with a profit of 400 million euros a year ago, burdened by a 491 million-euro charge stemming from the Chrysler deal and recall costs. The Ebit loss in Europe narrowed to 72 million euros from 107 million euros.
The manufacturer's global revenue jumped 11 percent to 22.1 billion euros, as deliveries climbed 9.1 percent to 1.11 million vehicles buoyed by demand for the Jeep Grand Cherokee.
The merged company, to be named Fiat Chrysler Automobiles NV, will have its main stock listing in New York and will be registered in the Netherlands with the fiscal domicile in the U.K. for tax purposes.
Fiat stuck to its goal to increase trading profit to a range of 3.6 billion euros to 4 billion euros in 2014 from 3.39 billion euros last year. That's in line with analyst estimates of 3.7 billion, while doubts about the long-term plan remains.
"You're giving me very lofty 2018 targets, which I think are just not credible," said Erich Hauser, a London-based analyst at a London-based automotive analyst at International Strategy & Investment Group.
Before it's here, it's on the Bloomberg Terminal.
LEARN MORE