One Question: Who's Your Dream Commencement Speaker?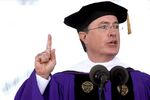 In our continuing series, we ask MBA students from all over the world one question to get at what the next generation of business leaders is thinking. This week we asked: As we enter commencement season, if you could pick one speaker, who would that be, and why?

It's worthwhile hearing from an international speaker. Satya Nadella, who recently took charge at Microsoft, immediately springs to mind.
As the first non-American born chief executive officer of Microsoft, Nadella surely has some interesting anecdotes … but more importantly, he also has a view on the future of culturally integrated workplaces and international operations.
— Dominic Rasini, Simon Graduate School of Business, University of Rochester
"So many people come to mind, but if I had to pick, Hillary Clinton would be toward the top of my list. She has faced adversity and overcome it to become one of the most successful female politicians in history. Her experience as First Lady and Secretary of State is unparalleled. I'm certain she is riveting and informative as a speaker."
— Jessica Fischburg '15, Kenan-Flagler Business School, University of North Carolina
"Stephen Colbert. He combines wit, wisdom, and a humble background. He is an extremely intelligent person with a good perspective on life, work, and big-picture issues."
— Damian Kearney, Johnson Graduate School of Management, Cornell University

"I think it would be fun to hear Malcolm Gladwell deliver our commencement speech. He does a fantastic job of bringing insights from multiple disciplines and giving them real-world meaning and application. I imagine he would have a nugget of wisdom or two to impart to us as we exit B-school and launch our careers in the real world."
Sam Lambson '15, Johnson Graduate School of Management, Cornell University
"I would pick an up-and-coming entrepreneur in either the technology or social enterprise [field], because these industries have a history of disruptive innovation and pushing the envelope. The speaker would ideally be someone who is not a household name. In my experience, I have found the words and stories of those coming from nontraditional backgrounds, especially from entrepreneurial and creative fields, to be much more inspirational and insightful than those coming from more conventional speakers.
— Arnab Mukherjee '15, Johnson Graduate School of Management, Cornell University