Westpac Bank Profit Up 8% on Loan Growth, Wealth Management
Narayanan Somasundaram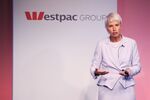 Westpac Banking Corp., Australia's second-biggest lender by market value, reported a 8 percent increase in first-half cash profit on loan growth, wealth management income and lower bad debt expenses.
Cash profit, which excludes one-time items, increased to A$3.77 billion ($3.5 billion) in the six months to March 31 from A$3.51 billion a year earlier, the Sydney-based lender said in a statement today. That beat the A$3.64 billion mean estimate of five analysts surveyed by Bloomberg. Net income rose to A$3.62 billion from A$3.29 billion.
Chief Executive Officer Gail Kelly, who favored profitability rather than market share over the past two years, is now focused on volume growth to recoup business lost to the bank's peers. Demand for mortgages is increasing after cuts in interest rates, Chief Financial Officer Peter King told reporters.
"Underlying trends for Westpac appear healthy amid a strong capital position and lower bad debt charges," Mark Nathan, managing partner at Sydney-based Arnhem Investment Management, which controls about A$3.8 billion, said by phone. "The lack of a special dividend for the third consecutive half has caused some disappointment. Westpac probably chose to be conservative. There is room for specials once the bank determines its target capital ratio."
Westpac shares, which touched a record of A$35.99 on April 29, were down 0.1 percent to A$34.84 at 10:25 a.m. in Sydney. The shares have climbed 7.5 percent this year, the biggest gainer among the four largest banks. That compared with a 2.3 percent rise for the benchmark S&P/ASX200 index.
Wealth Management
The bank boosted its interim dividend to 90 Australian cents a share from 86 cents a year earlier. That missed the mean estimate of four analysts surveyed by Bloomberg for a dividend of 96 cents.
Westpac's Australian Financial Services unit, which includes its retail and business banking operations, posted a 12 percent rise in cash profit from a year earlier. Earnings were driven by a 21 percent increase in profit at its wealth management unit and a 10 percent rise for its retail and business bank. Its institutional bank's profit dropped 4 percent as the previous year benefited from one-time items including the exit of its listed infrastructure business.
Its New Zealand business delivered a 17 percent increase in profit.
Mortgage Growth
The value of Westpac's Australian mortgages climbed 5 percent in the six months, the country's second-largest mortgage lender behind Commonwealth Bank of Australia said in today's statement. That was below total Australian home lending growth of 5.9 percent in March from a year earlier, Reserve Bank of Australia data show.
Demand for mortgages is increasing after the central bank dropped its benchmark interest rate by 225 basis points since late 2011 to a record low of 2.5 percent and banks cut mortgage rates to a 4-1/2 year low.
Interest-rate cuts are "translating into further development of the housing sector," King said in a media conference call. "As we go forward, we see a chance of a modest increase in lending." He expected housing credit to remain at current levels.
Charges for bad debts in the second half decreased to A$341 million from A$438 million a year earlier, the lender said.
The bank's cash net-interest margin, a measure of lending profitability, dropped 8 basis points to 2.11 percent. Westpac's employee count increased to 36,494 from 36,000 a year earlier, the lender said, and its cost-to-income ratio climbed to 41.2 percent from 40.9 percent.
Tier 1 Up
"Westpac has managed margins with just a 1 basis point drop from the preceding half despite lending competition," T S Lim, Sydney-based analyst at Bell Potter Securities Ltd., said by phone. "The key for them going forward is to ensure volume growth does not erode margins."
Westpac's core Tier 1 capital ratio, a measure of its ability to absorb future losses, was 8.8 percent, under the local regulator's version of Basel III guidelines, compared with 8.3 percent as of Dec. 31. It will finalize its preferred capital range by Sept. 30 and is considering issuing additional Tier 1 capital security to replace securities maturing by the year end, King said.
In determining the size of the dividend increase, the bank factored in the potential for lending growth in the second half and new capital rules, he said.
Australia & New Zealand Banking Group Ltd. posted an 11 percent rise in first-half cash profit on May 1. National Australia Bank Ltd. reports May. 8. Commonwealth Bank of Australia, the nation's largest lender by market value, reports quarterly profit on May 14. CBA's fiscal year ends in June, compared with September for its main competitors.
Before it's here, it's on the Bloomberg Terminal.
LEARN MORE