pursuits
More Kiosks, Fewer Cashiers Coming Soon to Panera
By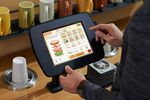 Panera—which has struggled with slow speed at its restaurants—has decided that the best way to quicken service and improve accuracy is for customers to bypass the cashier. As airports and convenience stores slowly train consumers to check in, or out, on their own, Panera's rolling out a new store design where customers order on their phones or at kiosks. Rather than customers stand around and wait for their order in front of the counter, a server brings their order to them, sans gratuity.
"The dirty little secret in the food industry is one in seven orders is wrong," Panera Chief Executive Ron Shaich said in an interview. "We're one in ten, a little better than average. Half of those inaccuracies happen during order input."
Customers will soon be able to punch in orders themselves, though if they're traditional, cashiers will still be available. This shifts the pressure to the kitchen to get their orders right, especially as this sort of ordering encourages more customization (with the push of a button customers can get extra cheese on their sandwich, or hold the avocado on their salad).
The average restaurant will have about eight kiosks and one to two fewer registers, though Shaich insisted the company is not cutting the number of workers. The stores will still need them to bring orders to tables and as extra help in the kitchen.
The new system will change how people move through the stores—as the chart below shows—and that's sure to cause some confusion at first. The chain will have employees on hand to guide customers through the new system. Panera invested $42 million on the technology and expects it to be rolled out systemwide by 2016.

Rather than wait in line to order, dine-in customers can order by kiosk, take a handheld locator (a sensor underneath the tables identifies where they're sitting using a "table tracker" system by tech company LRS), and have their food brought to them. If they plan to order by mobile device, customers walk straight in and grab a seat; they simply enter in the table number when they order from their seat.
For people who plan on picking up their food, Panera's starting a new convention. These customers order and pay before they even arrive, and then retrieve their meal from a dedicated shelf—no need to order at the store and wait around. "I can go in and out in less than 10 seconds," said Shaich. Assuming Panera got their order right, that's about as fast as food can get.
Before it's here, it's on the Bloomberg Terminal.
LEARN MORE