Modi Mutiny Risk Looms as Top BJP Woman Muted in India Vote
Bibhudatta Pradhan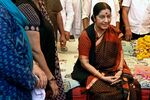 Across much of India, leaders of Narendra Modi's Bharatiya Janata Party chant his name and plaster his picture on billboards and campaign pamphlets. He featured less prominently in one corner of Madhya Pradesh.
At events in more than a dozen dusty villages of the landlocked state last month, Sushma Swaraj, 62, didn't once mention the name of Modi. The party's highest ranking female member and its leader in parliament's lower house brushed off reporters' questions about the BJP's candidate for prime minister, telling them to just report what they see.
Swaraj is among a group of BJP veterans who've been sidelined as Modi has risen to lead the party, and stand to gain should it underperform in its bid to end the Congress-led government's decade-long rule. Dissension might surface if the BJP doesn't win a majority or enough seats to form a stable coalition, making it dependent on smaller parties who view Modi, 63, as a divisive figure and might prefer an alternative candidate for prime minister.
"Modi's facing hostility not only from Congress and prospective allies, but also from his own BJP," said Paranjoy Guha Thakurta, an analyst who has written about Indian politics for more than three decades and co-authored a book on coalition politics. Swaraj and former Deputy Prime Minister Lal Krishna Advani are part of an anti-Modi faction within the party that "will assert itself if there is an opportunity," he said.
Opposition Attacks
Most polls have shown Modi's BJP winning the largest number of seats while falling short of the 272 needed for a majority when election results are announced May 16. Regional party leaders such as Mamata Banerjee of the All India Trinamool Congress, who may hold the balance of power in such a scenario, have lambasted Modi for his role in 2002 anti-Muslim riots that killed about 1,000 people.
India's rupee has been among the world's top performers since hitting an all-time low on Aug. 28, surging 14 percent in that time partly on optimism that a Modi government will boost economic growth. The currency gained 0.2 percent to 60.2175 as of 12:21 p.m. in Mumbai, after touching the strongest level since April 10.
The ruling Congress party has sought to exploit the BJP divisions, with one leader in March telling reporters that Swaraj would make a better prime minister than Modi. Rahul Gandhi, who is leading the Congress campaign, has pointed in speeches to what he says is Modi's sidelining of BJP leaders like Swaraj, Advani and Jaswant Singh, a former finance minister who left the party in March.
'Internal Democracy'
Swaraj said in March she was "pained" by the move to deny Singh a seat in the election and that the decision hadn't been made by the party's central election commission. Singh, who is now running as an independent candidate in Rajasthan, has urged workers to differentiate between the "real BJP" and "fake BJP."
Advani offered to resign last year from the BJP a day after it appointed Modi to head the election campaign, only to quickly reverse his decision. Two months ago, he again expressed anger after he was slated to run in a seat he didn't want, prompting the BJP leadership to put him in his preferred constituency.
The party has sought to downplay the divisions, with Treasurer Piyush Goyal lauding the party's "vibrant internal democracy" and calling the idea of a split "a complete figment of the imagination."
"The general consensus of the party prevails," Goyal said on April 27. "Every leader and worker stands solidly behind Mr. Modi."
'People's Voice'
At meetings in Madhya Pradesh, Swaraj talked to voters about infrastructure she brought to the area and her role as the opposition leader. She thanked all the local leaders in attendance by name and distributed booklets listing her achievements that had Modi's face stamped on the back page.
"Sushma Swaraj has charisma -- she is the people's voice in parliament," Manoj Raghuvansi Khuntia, 39, a BJP activist in Manora village, said after listening to her speak. "I believe there will be a turn of events and she will be the prime minister, while Modi will stay in Gujarat."
At the age of 25, Swaraj became the youngest cabinet minister in Haryana, one of India's 28 states. She's been elected six times as a member of parliament, and also had a stint as chief minister of Delhi in the 1990s.
Under Wraps
Besides the disagreement over Singh's seat, Swaraj also criticized the party's alliance with a local party leader in Karnataka state. While she has used her Twitter feed to congratulate opponent Arvind Kejriwal for becoming chief minister of Delhi, it contains no mention of Modi since his appointment as prime minister candidate on Sept. 13.
For the most part, the BJP has been able to keep the tensions under wraps. Swaraj appeared with Modi and other senior leaders on stage last month when the party released its campaign manifesto, and told a campaign rally this week in Bihar, a state in eastern India, that Modi has "tremendous leadership quality," according to Press Trust of India.
"The campaign strategy for the BJP was to project Modi as their face for the election," said A.S. Narang, who teaches political science at New Delhi-based Indira Gandhi National Open University. "The senior leaders were sidelined to project an individual and his track record of development. Modi has consolidated his position in the run up to the election."
Modi Expendable
Modi's opponents view the Gujarat chief minister as responsible for the 2002 riots, with Banerjee's party calling him the "Butcher of Gujarat." Modi denies wrongdoing, and a panel appointed by India's Supreme Court in 2012 found no evidence that his decisions prevented victims from receiving help. He told ANI News last month that he deserves death if the allegations are true.
Modi has struggled to work with the BJP's senior leaders and prefers more junior colleagues who are more compliant, according to Nilanjan Mukhopadhyay, author of "Narendra Modi: The Man, The Times." Swaraj and other leaders don't see Modi as essential to the party's fortunes, he said.
"How the power struggle within the party will play out purely depends upon the numbers they get," Mukhopadhyay said. "Anybody and everybody can become prime minister depending upon the situation."
Before it's here, it's on the Bloomberg Terminal.
LEARN MORE