The Ranks of MBAs in Uniform Are Growing
Schools that offer online programs are drawing military personnel
By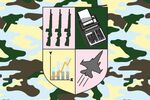 Paul Townsend, a U.S. Air Force fighter pilot stationed at the Pentagon, passed over part-time MBA programs at Georgetown University and the University of Maryland when he was looking for schools in 2012. The Air Force Academy graduate knew he would be restationed in the coming years, so he enrolled in the online program at Indiana University's Kelley School of Business and expects to graduate this summer. Soon afterward, he and his family will relocate to Okinawa, Japan, for a three-year tour. "So much has changed," says Townsend, 36. "Previously, the only folks that played in the online space were for-profit programs, and I didn't want to do any of those."
While some top-tier business schools have experimented with making classes available via websites such as Coursera and EdX, just a small minority of highly rated schools offer online MBAs. Two of the best regarded are Kelley and the University of North Carolina at Chapel Hill's Kenan-Flagler Business School. Active-duty military personnel and service members making the transition to civilian life have become one of the largest groups of working professionals to enroll in these programs. "The military is a major industry where we see students coming from," says Susan Cates, executive director of the online MBA program at UNC.
Veterans and members of the U.S. armed forces make up 25 percent of the 551 candidates enrolled in UNC's online MBA classes. At Indiana University, which has 1,072 online MBA candidates, they account for 15 percent to 20 percent of each graduating class. At Arizona State University's W. P. Carey School of Business, where the full-time MBA program is ranked 49th by Bloomberg Businessweek, the proportion of online students coming from the military has almost doubled since 2010, reaching a record 20 percent last fall. At most elite B-schools, active-duty personnel typically account for less than 1 percent of the class, while veterans make up about 5 percent, according to data supplied by individual schools. "The level of flexibility has always been a barrier," says Mike Haynie, executive director of the Institute for Veterans and Military Families at Syracuse University, a research center.
The pool of applicants to online MBA programs is likely to grow: More than 1.5 million service members will enter the civilian workforce through 2019 as a result of the drawdown of U.S. forces in Afghanistan and military budget cuts, says Haynie. Public universities are best poised to take advantage of the influx, given that the revamped GI Bill covers as much as 100 percent of tuition and fees for in-state applicants.
Online MBA degrees don't immediately lead to the dramatic job changes and salary increases that traditional programs typically do. While not all such programs provide data about salary and career outcomes for their students, an online degree results in a 40 percent pay increase for graduates, compared with the 79 percent bump they get from a full-time, two-year MBA, according to the Graduate Management Admission Council. School administrators say that's mostly because students enrolling in online programs generally have more years of work experience and are more highly paid than those in the regular MBA programs.
Amir Abu-Akeel, an Army officer stationed in Tennessee who will soon deploy to Afghanistan for 12 months, says he chose UNC's online program because it replicated many of the features of the traditional MBA. He's attended networking events on campus and is working on a two-month, school-sponsored research project for Boeing that has required him to put in some time at school. Abu-Akeel, 32, hopes to continue taking online classes while stationed abroad—something he says he couldn't have done if he'd enrolled in the weekend MBA programs at Duke University or the University of Virginia, which he also considered. This way, he says, "a computer, a built-in camera, and the Internet are all I need."
Before it's here, it's on the Bloomberg Terminal.
LEARN MORE