The Housing Rebound Stalls
Higher interest rates and out-of-reach prices are slowing the market
by and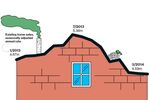 After a decade of boom-bust-boom, the U.S. housing market is going downhill just when many economists thought it would be heading upward. Sales of previously owned properties tumbled 7.5 percent in March from the previous year, to the slowest pace in 20 months, while purchases of new houses sank 14.5 percent from February. And applications for mortgages to buy homes are down 21 percent from this time last year, indicating fading demand during what is typically the busiest season for deals.
Mortgage interest rates are rising from record lows as the Federal Reserve reduces its bond-buying program. Hedge funds and other big investors have decreased their purchases of homes to rent out. "The very-low-rate environment and the high level of investment activities really masked how weak the housing market was," says Sam Khater, deputy chief economist at CoreLogic. "Once it goes back to the normal owner-occupied purchase market, you really realize how weak the market is."
Housing's woes are slowing the economic recovery. Residential investment, including construction of single-family and multifamily homes, residential remodeling, and brokers' fees, accounted for 3.1 percent of gross domestic product in the fourth quarter, less than half the peak contribution of 6.6 percent in 2006, according to an April 28 report by Capital Economics. "The apparent crumbling in the housing recovery has, at least temporarily, removed a valuable support to GDP growth," the report said.
Sales are slipping in Phoenix and Las Vegas, where traditional buyers aren't stepping in to fill the void left by investors—whose activity pushed prices up. In San Francisco, Denver, and Dallas, where job growth is robust, listings are scarce and overpriced for many house hunters. "We've had a boom, and we've had a bust—and those were all national events," says Mark Palim, vice president for applied economic and housing research at Fannie Mae. "Now that national drivers are less significant to the market, you're seeing the reemergence of local economic factors."

The National Association of Realtors' Housing Affordability Index, which compares household incomes with home prices and mortgage rates, fell 16 percent in the 12 months through February, the most recent month from which data are available. Prices have climbed so fast in the past two years that buyers have sticker shock, says Lawrence Yun, chief economist for the real estate agents' group. He projects that sales will decline 2 percent this year. "Housing is a victim of its own success," he says. "It's just that the fast price growth is not healthy."
Buyers, already handicapped by tight credit and weak wage growth, felt a hit to their purchasing power when mortgage rates jumped last year. The average rate for a 30-year fixed-rate mortgage was 4.33 percent in late April, according to Freddie Mac, up a full percentage point from a near-record low last May. That raised the cost of a $200,000 mortgage 13 percent, sending monthly payments to $993 from $881.
Blackstone Group, American Homes 4 Rent, and other investors that swooped in to buy low-priced homes to convert into rentals are retreating as costs rise and fewer distressed properties come on the market. Blackstone, whose Invitation Homes unit invested more than $8 billion in 43,000 homes over the past two years, has slashed the pace of its purchases by 70 percent from last year, says Jonathan Gray, the company's global head of real estate.
Nationwide, investors accounted for 17 percent of home purchases in March, the lowest share for that month since the National Association of Realtors began tracking the figure in 2008. Meanwhile, the share of Americans who own their homes was 64.8 percent in the first quarter, down from 65.2 percent in the previous three months, the Census Bureau said on April 28. The rate is the lowest since the second quarter of 1995, when it was 64.7 percent.
In Arizona, where investors helped drive a 44 percent increase in home prices in the past two and a half years, "momentum is gone," says Jim Belfiore, president of Belfiore Real Estate Consulting. Phoenix-area sales fell 26 percent in February from the year before, and total spending on homes fell 16 percent, according to a report in April by the W.P. Carey School of Business at Arizona State University. Investors bought 20 percent of homes, half their July 2012 share, the report said. "The market has been deteriorating since June of last year," Belfiore says. The combination of mortgage rate increases and rising home prices, he adds, "shocked some buyers and sapped some momentum from the housing market."
The cooling trend follows a decade of market turmoil. Fueled by lax subprime lending, prices soared from 2004 to 2006. When the bubble burst, prices fell 35 percent from their July 2006 high, and 5 million owners went through foreclosure, which left many of them unable to qualify for a mortgage. After rebounding from a March 2012 low, the S&P/Case-Shiller index of home prices in 20 cities is at 2004 levels.
It's too early to say that the market's recovery is faltering, says Paul Diggle, a housing economist with Capital Economics. Bad weather accounted for slower sales in parts of the Northeast and Midwest, he says. "We have taken an optimistic view that as investor demand starts to drop off, we'll see improvement in organic demand," he says. "If we don't see anything by the middle of the year, we'll be changing our outlook."
Before it's here, it's on the Bloomberg Terminal.
LEARN MORE