pursuits
Is Burger King's Big Mac Clone Stealing McDonald's Lunch Money?
By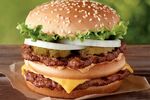 It's just a small improvement, but Burger King's same-store sales increased 0.1 percent in the U.S. and Canada during the first quarter—welcome news after falling 0.9 percent in 2013. The bump, Burger King says, was driven in part by its new Big King sandwich, which recently became 0.8 ounces larger than the incredibly similar, original two-beef-patty champion, the Big Mac. In fact, Burger King is so bullish about the Big King that it's added a chicken version called the Chicken Big King.
Now McDonald's must defend its big-burger turf, which is essential at a time when fast-food chains are also losing customers to fast-casual competitors such as Chipotle Mexican Grill and Panera Bread. Some McDonald's restaurants, for instance, are offering buy-one-get-one Big Mac promotions.
Expect more of that, says Darren Tristano, an executive vice president at restaurant industry consulting group Technomic. "To remain competitive with Burger King, McDonald's will aggressively promote bogo [buy one get one] or 'two for' promotions to compete on value and keep competitors from stealing share," he wrote in an e-mail. The hope is that the promotions increase traffic and that customers order higher-margin beverages and sides.
After focusing on new menu offerings including the McWrap and Mighty Wings, McDonald's is shifting its attention back to old standbys such as the Big Mac, fries, Chicken McNuggets, McMuffins, etc. The classic lineup generates about 40 percent of total sales, Chief Executive Officer Don Thompson said during a recent earnings call. "They are an incredible business asset for us that requires a constant drumbeat of communication."
As Burger King and others try to steal afternoon customers, and chains like Taco Bell make a play for breakfast, McDonald's "should be concerned with every brand biting at their ankles," Tristano says.
Before it's here, it's on the Bloomberg Terminal.
LEARN MORE