Guilt Overwhelms Families of Missing of Sunken Korea Ship
Sam Kim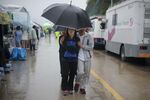 Bang Ki Sam holds his wife's hand every morning as they walk around the harbor where bodies are brought ashore from a South Korean ferry that sank two weeks ago with their only child on board.
Their 21-year-old son, Hyun Soo, had just started a part-time job helping organize activities on board the five-deck, 6,825-ton Sewol, when it capsized and sank off the southwest corner of the Korean peninsula on April 16, leaving more than 300 people dead or missing. President Park Geun Hye yesterday apologized amid growing criticism of her government's response to Korea's worst maritime disaster in four decades.
"I'm so sorry as a father that there isn't anything I can do but watch the sea from here, there's no piece of rubble that I can help lift to save my kid," Bang, 50, said, wiping his eyes as he stood in the rain that's soaked the harbor for days. "We're all hurting and consolation is meaningless to one another at the moment."
Divers have retrieved more than 200 bodies from waters notorious for rough currents and where visibility may be as little as 20 centimeters (8 inches). More than 90 people remain missing while 174, including all 15 crew members involved in navigating the Sewol, were rescued. No survivors have been found since the day the ship sank en route to Jeju island.
"If there's any reason these families are holding up, it's because they are hanging on to the string of hope that their loved ones may be alive," Kim You Seok, a psychiatrist who brought a team of 25 medical staff from the Ministry of Health and Welfare, said by phone. "But we are seeing more people falling to the ground as time goes by."
Painkillers, Sedatives
Those gathered in Jindo, near the site of the sinking, are suffering as they talk of helplessness, guilt, anger and regret. Across the nation, South Koreans have lined up by the hundreds of thousands to offer yellow ribbons and flowers at memorial altars. At the harbor, pizza, chicken nuggets, cans of coca-cola and chocolate bars have been left on a table altar facing the sea for the children who haven't returned.
"Don't cry, sister, please don't cry," a woman, wailing herself, said inside a closed tent as the family confirmed the identity of a body just brought ashore. Coast guard official Ko Myung Suk said today at a briefing that divers may wind up failing to find all of the missing.
In the gymnasium where more than 100 relatives of the victims are sitting and sleeping on the floor with blankets, pharmacists provide painkillers, sedatives and digestives, and plasters to ease muscle spasms.
"Many of these parents refuse to come to us because they feel they don't deserve treatment when their children are missing," said Kim Min Jeong, a doctor of family medicine from the National Medical Center in Seoul. "They have been feeling extremely tense for too long, which causes insomnia, headaches and diarrhea because they are unable to digest food."
'Come Back'
Insomnia is the most commonly-heard complaint. Bang's wife has taken sedatives every day since the sinking. Messages along the walls offer little comfort. "My daughter, come back to your father," reads one. "I feel sorrow and regret. My daughter, please come back so I may care for you again."
With hope fading that the missing may be alive, anger is growing as days turn to weeks since the sinking of the Sewol, which means "time and tide."
"For how much longer should we wait?" a woman shouted in a white tent set up by government officials at the harbor. "It's been too many days!"
A man emerged an hour later from the tent with his wife, both holding umbrellas and gazing at a sea dotted with squid fishing boats aiding the nighttime search. Their child, one of 325 students from Danwon High School on the ferry, is among the missing, the man said, without giving his name.
Relatives accused divers of deliberately slowing down operations so the families give up hope, allowing the rescue operation to switch to a salvage mission.
Officials including Kim Su Hyeon, Commissioner of the Korea Coast Guard's West Regional Headquarters in Mokpo, denied the claims, citing strong currents and bad weather and pledging to send in "younger and tougher" divers.
Deep Regret
"Many parents are suffering from a deep sense of regret," Kum Gang, a Buddhist monk, said at the gymnasium as the sound of a wooden gong reverberated across the rain-soaked walkway. "Many parents regret pushing their kids too hard to study. One father cried while regretting giving his child just 20,000 won ($19) for the trip. There was also a husband who was unable to escape with his wife and later found her dead."
Bang, who also lost his nephew on the ferry, says he can't get over the feeling that he had a chance to save his son, recalling their last phone conversation at 9:32 a.m., when the vessel was already listing. It was also about the time the core crew was escaping, while passengers were told to put on their life jackets and stay where they were.
"My son so calmly followed the instructions I felt no sense of alarm when we spoke," he said. "I regret not telling him to get out. It hurts. It hurts so much."
Before it's here, it's on the Bloomberg Terminal.
LEARN MORE