Why the U.S. Is Targeting the Business Empire of a Putin Ally
By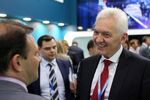 As the U.S. imposes a new round of sanctions on Russian President Vladimir Putin's inner circle, one name comes up again and again: Gennady Timchenko.
Of 17 companies and banks added to the U.S. sanctions list today, at least 14 are connected to Timchenko, a Russian-born billionaire and former judo partner of Putin's. Timchenko, who built his fortune as co-founder of the oil trading company Gunvor Group, said he sold his stake in Gunvor the day before his name was placed on the first U.S. sanctions list on March 20.
The list released by the U.S. Department of the Treasury today, however, names Timchenko's Luxembourg-based Volga Group holding company, as well as 10 businesses it controls, ranging from a mineral-water bottling company to industrial construction firms. Also targeted are three subsidiaries of Bank Rossiya, a previously sanctioned bank in which Volga Group holds an 8 percent stake, according to the group's website.
Volga Group reacted angrily to its inclusion on the list. "None of the companies mentioned by the U.S. Department of the Treasury has any connection to events in Ukraine," a spokesman said in a statement provided to Bloomberg Businessweek. "There can now be even less doubt that these announcements and measures are politically motivated."
In effectively carpet-bombing the business empire of a close Putin ally, the U.S. is pursuing a new kind of sanctions tactic, says Jeffrey Schott, a senior fellow at the Peterson Institute for International Economics. Taking advantage of financial-tracking techniques that have become available only in the past few years, he says, the U.S. government is able to "name individuals who have extensive cross-holdings," in an effort to "make them and their companies radioactive."
Another possible explanation for the tactic: The U.S. may have evidence that Putin has entrusted his personal wealth to Timchenko, says William Pomeranz, deputy director of the Kennan Institute for Advanced Russian Studies at the Woodrow Wilson International Center for Scholars. In sanctioning Timchenko last month, the U.S. said Putin had a direct financial interest in Gunvor Group. Both men denied that allegation, and Timchenko said he had sold his 44 percent stake to his Swedish partner on March 19, the day before the sanctions list was announced.
Timchenko, who lives in Switzerland and has dual Russian-Finnish nationality (his wife is Finnish), has a personal net worth of $7.6 billion, according to an estimate by Bloomberg. Volga Group is his chief investment vehicle. Among the Volga Group holdings placed on the U.S. sanctions list are Transoil, a pipeline company; Sakhatrans, which is building a shipping terminal for coal and iron ore exports from Russia's Far East; Avia Group, which develops and manages business-aviation facilities at Russian airports; Stroytransgaz, a major industrial contractor; and Aquanika, a mineral-water bottler.
In addition to the 15 Timchenko-connected companies on the new sanctions list are Moscow-based SMP Bank and oil and gas contractor Stroygazmontazh. They're controlled by brothers Arkady and Boris Rotenberg, two other Putin allies who were named on the initial sanctions list. Timchenko and the Rotenbergs are close, too: They co-own Finland's biggest ice hockey arena.
Targeting such businesspeople isn't likely to cause serious economic disruption in Russia, Schott says—and that suits the U.S., because it minimizes risks to western European allies that have far greater economic exposure to Russia than the U.S. does. "It allows the sanctions policy to be sustainable politically," Schott says.
Before it's here, it's on the Bloomberg Terminal.
LEARN MORE